Namaloom Afraad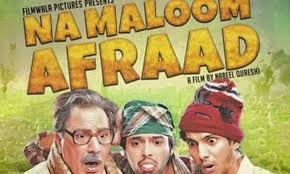 Cast
Javed Sheikh
Fahad Mustafa
Urwa Hocane
Mohsin Abbas Haider
Director: Nabeel Qureshi
Producer: Mehdi Ali and Fizza Ali Meerza
Namaloom Afrad was the biggest blockbuster of 2014, hailed as a giant step towards the revival of Pakistani film industry; the film represents the harsh realities of life (especially experienced by those living in Karachi) in a light and entertaining way.
Namaloom Afrad is a story of three men Shakeel Bhai (Javed Sheikh), Farhan (Fahad Mustafa) and Moon (Mohsin Abbas Haider) who want to make quick money for their own pressing reasons and use the uncertain conditions in the city as a cover to do so.
The movie is out and out entertaining with a good story, good acting, humor that has you in stitches and an item number by Mehwish Hayat (Billi). The director Nabeel Querishi has done a great job considering this was his first venture. Namaloom Afrad received critical acclaim from all quarters and is a sure sign that things are improving in the Pakistani film industry.
O21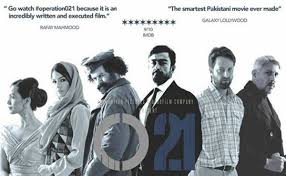 Cast
Shaan Shahid
Ayub Khoso
Aamina Sheikh
Shamoon Abbasi
Joe Towne
Director: Jami and Summer Nicks
Producer: Azan Sami Khan and Zeba Bakhtiar
The first spy action thriller O21 was released on 6th October 2014. It was an exceptional movie and a bold attempt from the director and producer. O21 was inspired from actual events based on NATO Tankers in Afghanistan.
The main theme of O21 is the corporate greed and politics; Dost (Ayoub Khoso) wants to prevent corporate warfare in Afghanistan and seeks help of a Pakistani Kashif Siddique (Shan) to do so as it may involve Pakistan as well. Both men have 21 hours to carry out a plan to save both countries hence the name O21.
System
Cast
Nadeem
Sheraz Ghafur
Kashaf Ali
Irfan Khoosat
Director: Shahzad Ghafur
Producer: Ghafur Butt
The movie System depicts the impact of local corruption on people and how it can lead them to rebellion. In the drama action film System, the hero (Sheraz Ghafur), the son of a pesh Imam (Nadeem) is fed up by the injustices meted out by the corrupt political and legal system and stands up against it. System was directed by a Norway based director Shehzad Ghafur and although it was a flop at the box office, it was a fine effort.
Sultanat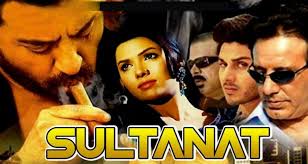 Cast
Aslam Bhatti
Javed Sheikh
Mustafa Quresishi
Achnit Kaur
Shewata Tiwari
Director: Syed Faisal Bukhairi
Producer: Aslam Bhatti
Based on the life of life of an underworld don, Sultanat is a story of crime and conspiracy with gore and raunchy songs added for the masala. Unfortunately it became too spicy for the taste of the people. The movie revolves around Aslam Bhai (Aslam Bhatti) an underworld hero and a businessman by trade who has many enemies including his relatives.
Aslam is married to Pari (Shweta Tiwari) and also has a soft corner for Tara (Achnit Kaur). Throughout the movie Sultanat Aslam's enemies; his cousin Sikandar (Javed Sheikh), a local underworld don and Gharou Dollar (Govind Namdev) an expert in forging currency notes conspire against him and he has to save himself and his Sultanat.
Dukhtar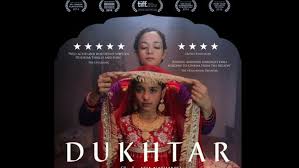 Cast
Samiya Mumtaz
Mohib Mirza
Saleha Aref
Director/ Screen Writer: Afis Serena Nathaniel
Producer: Afia Serena Nathaniel/ Muhammad Khalid Ali
Set in the mountainous northern areas of Pakistan, the film Dukhtar is made on the bold topic of child brides. In the rural areas of Pakistan often pre-teen girls are given in marriage to men twenty and even fifty years older to them to settle family feuds.
In the movie Samiya Mumtaz plays the mother Allah Rakhi who has been ordered by her much older husband to dress their ten year old daughter Zainab (Saleha Aref) as a bride as he has arranged her marriage with an elder tribal chief in order to end the friction between the two families.
Herself a child bride Allah Rakhi flees with her daughter on the eve of her marriage and is chased by men from both families. On foot and terrified, the two come across Sohail (Mohib Mirza) a Punjabi truck driver who transports goods between Lahore and KP.
Allah Rakhi lies to him to get his help but Sohail soon finds out the real reason. The rest of the film is how Sohail endangers his life to help them escape. Dukhtar was screened at the Toronto Film Festival where it won accolades and was also Pakistan's entry to the 87th Academy Awards.
Tamanna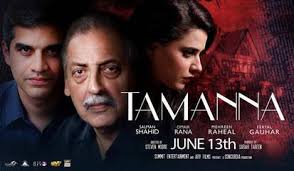 Cast:
Salman Shahid
Omair Rana
Mehreen Raheel
Feryal Gauhar
Diector: Steven Moore
Producer: Sarah Tareen
Tamanna is a neo-noir drama; the first of its kind in Pakistan directed by Steven Moore a British director. The movie Tamanna is inspired by Sleuth a play by Anthony Shaffer and is a tale of revenge, crime, jealousy and deceit all woven together.
Rizwan Ahmed (Omair Rana) a struggling actor is in love with Mehreen Raheel a much younger wife of Mian Tariq Ali (Salman Shahid) a successful film director and tries to convince him to divorce her.
Tariq Ali gives him an encouraging response and then indulges in mind games one of them being asking Rizwan to steal Mehreen's jewelry. Tamanna was an intense and intelligent film with a sound musical score by Rahet Fateh Ali and Ali Azmat.