Bali is a beautiful island of Indonesia. The island, with a predominant Hindu population, is the seat of art and culture. This land of scenic beauty hosts the Pesta Kesenian or an art festival annually at Werdi Budaya Art Center in Denpasar.
The festival lasts for a month in which both local and international artists participate. Bali Arts Festival is celebrated to persevere and develop Balinese art and culture. The first Bali Arts Festival lasted for two months from 20th June, 1979 to 23rd August, 1979. The almost extinct and the unknown Balinese classical art was displayed to the society in an attempt to preserve it.
The Festival was first held in 1979 during the government of Ida Bagus Mantra and it is Indonesia's longest running art's festival. It is inaugurated with a parade held on the grounds of Bajra Sandhi Monument and continues in its main venue; Bali Arts Center, Denpasar.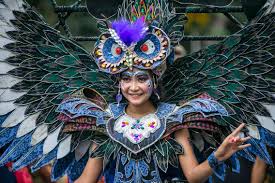 A colorful opening ceremony marks the beginning of the festival in which participants from all the regions of Bali introduce themselves with a brilliant performance depicting their traditions and culture. There are also competitions, seminars and exhibitions of arts and handicrafts.
The festival is intended to motivate people to explore, discover and display the artistic contributions of Balinese culture. The Bali Arts Festival has a unique and different theme every year.
The ceremony, usually officiated by the president of Indonesia, ends with a dance drama. There are daily performances of dance and music which continue throughout the day. Traditional Balinese artists, artists from other parts of Indonesia and other countries perform daily.
Besides music and dance, various forms of art and handicrafts of this fabulous place are also displayed. Food is another thing that is representative. During the festival you can savor the mouth-watering cuisine of Bali.