Mujra is one of the most legendary and traditional dancing styles on the Indian silver screen. It wouldn't be wrong to say that if dance refers to grace then mujra is the essence of grace.
The viewers of the Indian silver screen have witnessed lots of eras gone by and numerous actresses have left us with an eternal thought with their amazing abilities. They have always captivated us with their timeless beauty, million-dollar smiles, and poise.
Many classic movies have presented a good number of mujra songs which beautifully added grace and attraction to the subject of the film and connected the viewers with the dignity of the story.
Bollywood possesses many actresses who have amazing dancing abilities in all forms of dancing styles. So why not have a glimpse at some of the best mujra songs on the Indian silver screen?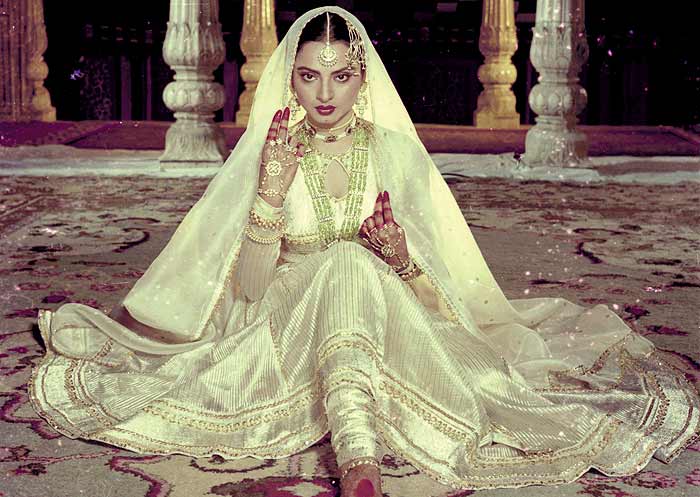 Umrao Jaan Ada is a legendary classic cult that has many unforgettable mujra songs. 'In Ankhon ki Masti ke' is the song where Rekha factually blushed with the magic of her twinkling eyes. It seems that the magical lyrics of 'In Ankhon Ki Masti' have drawn everything around her only.
She gives amazing expressions of feminine shyness. Undeniably, Rekha does full justice to each step of the classic mujra song thus delivers one of the best mujra songs on the Indian silver screen with her splendid performance.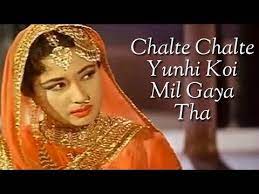 Chalte Chalte Yunhi Koi from Pakeezah is a timeless mujra song that gives a new meaning to all mujra songs of Indian cinema made ever. Amazing and soulful lyrics, delightful melody, and dazzling performance of Meena Kumari beyond doubt speak for themselves.
The ethereal music of this classic cult mujra takes the movie on the sky of fame where glassy performance and lavish set add a new beauty for the audience.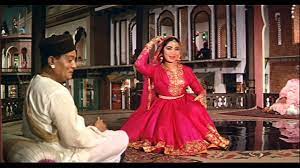 When it comes to the best mujra songs on the Indian silver screen, Pakeezah is one of the classics that answer. 'Inhi logon ne' is another gem from this last film of greatest actress Meena Kumari who gave a marvelous performance on thumri.
Once again, an amazing combination of finest lyrics, melodious tones, along with extraordinary facial expressions and tempting dance moves by the beautiful goddess of Bollywood makes 'Inhi logon ne' everlasting.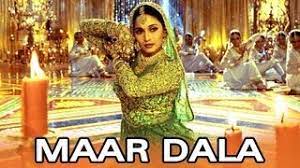 'Maar Dala' is a very famous mujra song from Sanjay Leela Bhansali's Devdas. It is without a doubt a tribute to the extraordinary dancing abilities to dance Queen Madhuri Dixit who reaches a zenith of her dancing abilities with this mujhra song.
She was expecting a child while the shooting of 'Maar Dala' and nobody expected that she would come out with such an amazing outcome and the main signature steps of the song would attain a hard-to-believe and astonishing popularity among the youth. 'Maar Dala' was the mujra song that made her a favorite gossip in many entertainment magazines for a long period.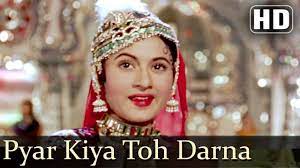 Madhu Bala was an eternal beauty of Hindi cinema, which blew a true soul in the character of Anaarkali in Mughal-e-Azam, a blockbuster movie of its era. 'Pyar Kiya Tu Darna Kiya' is a small depiction of her character but remembered as one of the best mujra songs that have been made in the history of Hindi cinema.
Along with her elegant outfit and adaa, Madhu Bala makes 'Pyar Kiya Tu Darna Kiya' worth remembering for an eternal era. She nails the melody with wonderful mujra steps as well as expressions and becomes worthy of great applause. The song leaves a remarkable impact on the audience which though hard to put into words, but one can enlighten that it's deep and thoughtful.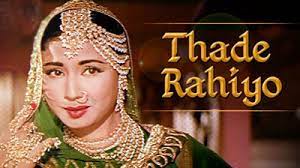 Another famous mujra song 'Thaade rahiyo' is from Pakeezah, which will always be in admired as one of the best mujra songs on the Indian silver screen for its elegant and poised dancing style.
The legendary actress Meena Kumara does the best Kathak and treats to eyes of a devoted admirer. She gives lovely facial expressions on every beat of Ghunghroous and creates a compelling sensation around her.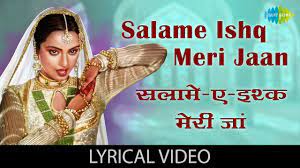 Rekha looks spectacular as always in the famous mujra song of Muqaddar Ka Sikandar and reveals the greatest expressions and dancing steps that go perfectly with the dignity of the mujra song. Salaam-e-Ishq features her in a fully never seen avatar.
The song meets with extraordinary recognition and success by her killer expressions and astonishing moves. Salaam-e-Ishq is one of the best mujra songs from Indian films that also present a true actress with grace and poise.
When we talk about the best mujra songs, Dil Cheez Hai Kiya discloses an extraordinary ovation among the classic and legendry mujra songs of Bollywood. It is certainly worth being considered unforgettable for its brilliant lyrics, Rekha's splendid dancing performance, and remarkable expressions.
Choli Ke Peechay Kiya Hai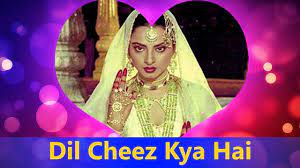 A super hit mujra song of its time; 'Choli Ke Peechay Kiya Hai' from Subhash Ghai's Khalnayak is well-liked everywhere. The song has Madhuri Dixit who represents the best facial expression while seducing Sanjay Dutt. Sarooj Khan's choreography, exceptional dance steps, marvelous looks, and powerful melody make 'Choli ke peechay kiya hai' an all-time hit.
Madhuri looks stunning and makes the best use of her mesmerizing eyes and face to express the meaning of the song by incredible moves. Thus, a perfect synchronization with each beat of the song plays a vital role in making 'Choli Ke Peechay Kiya Hai' one of the finest Bollywood mujra songs.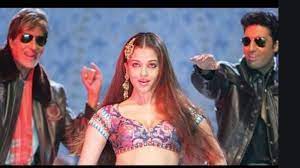 As mentioned earlier, Mujra songs command an individual place in Indian cinema and the majority of well-liked mujra songs are from old Indian movies. However, there are only a few in modern Bollywood who seem successful in touching the same essence.
'Kajra Re' is a masterpiece from Bunty and Bubly where the unique lyrics of the song finds perfect consolation in Aishwarya Rai's ethereal looks and delicate hand movements. Like 'Salaam' from Umrao Jaan (remake), she uses her attractive eyes as her most powerful weapon to seduce the viewers in 'Kajra re' and worth lots of praises.