The qawwali is the real Sufi spiritual song that conveys the mystic to join together with God. Hindi music possesses a blessed place for the qawwali songs for Hindi films. It's an old mystical practice that gained fame in Indian cinema primarily through 1950s Muslim community dramas.
Later, it attained the peak of popularity that its influences became typical which continues to exist in the present day as well. With this piece of writing, we will find out how this genre developed in mainstream Bollywood as one of the most adored musical genres on the Indian silver screen.
Here are some examples of Qawwali songs that have the power to captivate the audience:
Hamein To Loot Liya (Al Hilal)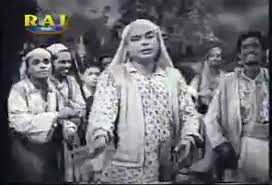 1958's Al Hilal's famous qawwali 'Hamein To Loot Liya' is considered one of the best qawwali songs, Hindi cinema ever had. This gem qawwali is one of its genres and presents various elements of naughtiness, love, and adoration. It was a big hit in the industry of the 50s & '60s and is still listened to and hummed with the same thrill. Though, its melody and composition is quite simple but is exceptionally captivating.
Yeh Ishq Ishq Hai (Barsaat Ki Raat)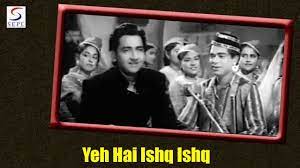 Another gem qawwali song of Bollywood is from the 1960's release Barsaay Ki Raat. 'Yeh Ishq Ishq hai' is a great combination of brilliant but complex lyrics by Sahir Ludhianvi and Roshan's music composition. It is a tribute to lovers who find their love as their real heaven.
'Yeh Ishq Ishq Hai' made an example for stylish performance duels between male and female performers. Although the qawwali is full of difficult Urdu words and allusions you have never used in actual life, it is still acknowledged as the best qawwali for its poetry.
Sharma Ke Yeh Kyon (Chaydhvin Ka Chand)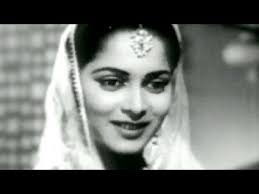 A hit qawwali song from 1960's Chaydhvin Ka Chand, 'Sharma Ke Yeh Kyon' is a traditional qawwali where you can find elements of fun with two females singing with the latter enchanting the male side and the former pleasing the womanly.
Ravi is the composer of this qawwali while Shakeel Barayuni wrote the lyrics. Asha Bhonsle and Shamshad Begum are the singers of this one of the cherished qawwali songs of Bollywood.
Teri Mehfil Mein Kismat (Mughal-e-Azam)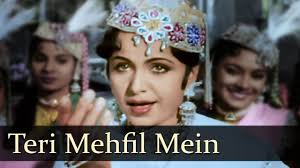 1960's blockbuster movie Mughal-e-Azam has the honor of having one of the best and famous qawwali songs of Indian cinema. The qawwali has Shakeel Barayuni's lovely lyrics representing the battle of two females for the prince's worship, with all lyrics getting the better off till the end.
Superbly composed by Naushad and perfectly sung by Shamshad Begum with Lata Mangeshkar, 'Teri Mehfil Mein Kismat' is simply no less. Mesmerizing performances by Madhu Bala and Nighar Sultana to cherish Dilip Kumar add splendid magic to 'Teri Mehfil Mein Kismat'. The qawwali is still believed as legendary and a real treasure as it was in its time.
Nigahen Milane Ko (Dil Hi To Hai)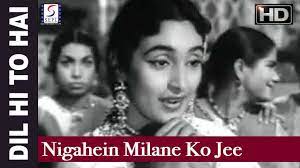 1963's famous qawwali song 'Nigahen Milanay Ko' is from the Hindi movie 'Dil Hi To Hai'. Asha Bhonsle has sung the qawwali with her best singing aptitude and has done complete justice with its requirements. 'Nigahen Milane Ko' has striking Urdu lyrics by Sahir Ludhianvi, catchy music by Roshan, and extraordinary performance by one and only legendary Nautan that attract the audience toward the magical spirit of this qawwali song.
Mehangai Maar Gayi (Roti Kapada Aur Makaan)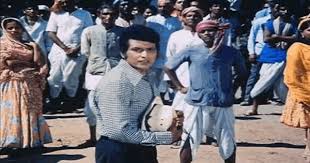 Another popular qawwali song of Indian films is from 1974's Roti Kapada Aur Makaan. Santosh Anand is the lyricist of 'Mehangai Maar Gayi' who carries a motivating social message outside the lands of dreamy love through this masterpiece. The qawwali song was sung by Mukesh, Lata Mangeshkar, Chanchal, and Jani Babu while the music was given by Laxmikant Pyarelal.
Pardah Hai Pardah (Amar Akbar Anthony)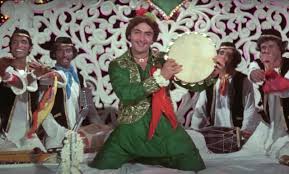 1979's popular qawwali 'Pardah Hai Pardah' is undoubted, a perfect piece of music in Mohammed Rafi's music career. This gem is from Amar Akbar Anthony which is acknowledged among the best of the best. Rishi Kapoor has given a truly passionate performance as a qawwal. From the beginning lyrics 'Pardah hai Pardah' to ending words 'akbar mera naam nahi' this qawwali is a complete treat from start to end.
Hai Agar Dushman Dushman (Hum Kisi Se Kum Nahi)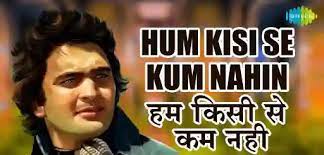 'Hai Agar Dushman Dushman' is particularly unforgettable for its musical originality. This fascinating qawwali is from 1977's Hum Kisi Se Kam Nahi and sung by Mohammad Rafi and Asha Bhonsle. Rishi Kapoor presented the best expressions and brilliant performance in the title qawwali song. The song represents the attitude of individuals showing their strength and powers over their rivalry.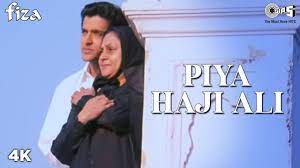 'Piya Haji Ali' is a perfect qawwali composition with spiritual lyrics. This masterpiece is from 2000's release Fiza- a drama and action film of its time. This qawwali is also known as a divine experience for both listener and musician.
During the qawwali, the listener looks forward to a spiritual experience of strength and nearness to rise above his or her mindful striving, while the skilled performer tries to deliver in song a gigantic treasure of verses that stir up a spiritual experience for the listeners.
Tere Dar Pe Aya Deewana (Veer Zara)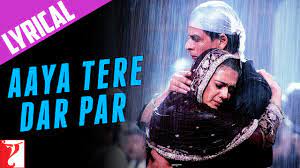 'Tere Dar Pe Aya Deewana' is a hit qawwali song from 2005's blockbuster film Veer Zaara. It's another gem of its genre which is well-composed, well-versed, and well-sung as well.
Javeed Akhtar's lyrics, singing of Mohammad Hussain and Ahmed Hussain, the spiritual melody of Madan Mohan, and captivating performances by Shahrukh Khan and Pretty Zinta magnificently bring you the power to put you deep into the music to get the real flavor.