Thailand formerly known as Siam is a home to some amazing festivals. The country respects not only its citizens but also the animals living there.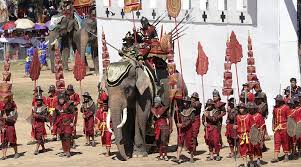 Thailand a land rich in culture, colors and exotic festivals has some amazing ideas about celebrations. The Thais show there reverence to everything which is useful to them. In the northeast province of Surin, the elephants are honored annually in the Surin Elephant Roundup.
This festival commenced in 1960 and has been celebrated every year on the third weekend of November. The people of Surin are quite famous for their knack of capturing and taming elephants. Throughout the province these gentle beasts can be seen working side by side with the humans.
In this unique festival watched by thousands of locals and foreign tourists the elephants display their skills and strength. There are soccer matches, elephant races, a tug of war between the elephants and 70 best muscled men of the Royal Thai Army and other activities showing the intelligence, agility and grace of this wonderful animal.
The highlight of the festival is the mock battle scene of yesteryears re-enacted for public enjoyment. The Surin Elephant Round up is much more than a fascinating public display of the elephant's capabilities; it is a unique and a beautiful bond shared by a man and a beast.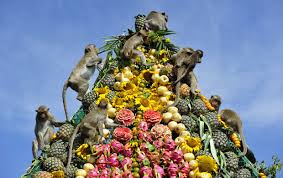 Lopburi in Central Thailand is the place where a grand banquet is thrown on the last weekend of November for their famous citizens "the monkeys". It is a common belief among the locals that monkeys which roam around freely in Lopburi bring fortune and prosperity to the town besides protecting it.
Monkeys are also a major tourist attraction in this otherwise sleepy town. They can be seen everywhere; wandering about in the town, swinging from trees, the temple of San Phra Kan is where they hang around the most. To express their gratitude, the people of Lopburi arrange a huge feast which they share with the monkeys.
The banquet tables are laden with sumptuous monkey favorite meals. Eggs, cucumbers, sausages, vegetables, ice cream and a wide variety of fruits are served to the primates. The honorable guests are offered sodas to wash down the lavish meal.
People also eat along with them; the monkeys do not mind the company but they do get angry if you take a helping of their favorite food. Not only the locals donate food for the festival, top chefs also prepare meals to tantalize the primates' taste buds.