Asian people love festivals of different sizes and shapes, be it sports, cultural, arts, or religious centered. They are also fond of gatherings that allow them to enjoy the company of other with delightful entertainment and more.
Five of the most important Asian festivals celebrated across the globe are the Songkran of Thailand, the Dragon Boat Races of Laos, the That Luang Festival of Laos, the Chinese New Year in Singapore, and the Thaipusam in Singapore and Malaysia.
The Songkran Festival in Thailand is celebrated every April. In this festival, Thais hail the New Year as referenced on their calendar. Since April is a hot season, Thais celebrate the festival with buckets of ice water and water guns out in the streets. For more enjoyment, the water guns are sometimes mixed with talcum powder.
To celebrate an end of the Lenten season of Buddhists, dragon boat races are organized in the riverside towns of Laos. Apart from the exciting races, a tiny carnival with man-made rides is installed as well as common platform games of skills.

Early in November, thousands of Buddhist factions converge on a spectacular festival at the That Luang Temple in Vientiane, Laos. The Buddhist factions come from different regions in the country and neighboring countries as well. The That Luang Festival feature flower processions and alms-giving rituals. A carnival is also organized during the festival days.
The Chinese New Year Festival in Singapore is a three-day celebration complete with fireworks, dragon dances, and parades. It is held sometime at the last week of January or at the start of February.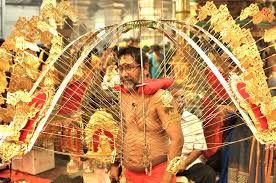 The Hindus celebrate the Thaipusam Festival where people give appreciation for their answered prayers by carrying "kayadis". They attach large steel racks on their bodies and pierce their skin with spears. Using sharp hooks, fruits are dangled from the skin as the cheeks are pierced.