Get set, get ready and go….to Glastonbury, the venue of the world's biggest open air music festival of modern music. What started as the Pilton Festival on a farm by Michael Eavis in 1970, it is now a mega music event. It is a five-day festival.
In 2019, from the 26th to the 30th of June, the town of Pilton in Somerset (England) transformed into a tented city where musical performances in every genre of contemporary music under the sun took place.
This year, the 50th anniversary of the festival was cancelled due to concerns over COVID-19. Glastonbury Festival won the NME Awards in the category of Best Festival in 2010, 2011, 2012, 2014, 2015, 2016, 2017, 2018, 2019 and 2020. In 2019, it got 2nd place in DJ Magazine in the category of World's Best Festival.
Besides music, other forms of performing arts displayed here are dance, theatre, comedy, circus, and cabaret. There is a kids' entertainment area, too. The whole area is divided into 50 + stages with the Pyramid, Other Stage, Jazz World Stage, Acoustic Tent, Shangri-La, and Trash City being some famous ones.
The number of people present at the venue can swell up to more than 177,000 and this year around 2000 performances took place. In 2019, some big names thrilled the audience; Liam Gallaher, Jon Hopkins, Lizzo, Lewis Capaldi, The Chemical Brothers, Vampire, Billie Elliesh, Jeff Bananarama, Kamasi Washington, Weekend, Miley Cyrus, Sean Paul, The Streets and many others.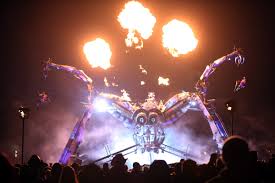 To add color, sculptures are displayed at the venue. There are many food stalls as well, which sell a variety of food – from burgers to organic food. Vibrant, entertaining, lively, and energetic are some words to describe the festival. It was confirmed the next festival will be held between 23rd and 27th June 2021.