The New Orleans Wine and Food Festival began almost two decades ago. During this festival, world famous chefs, wine makers and celebrities associated with the food industry gather together to provide you with the absolutely delightful gastronomical experience of your life. Around 10,000 people attend this festival. The festival lasts for five days.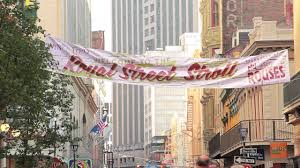 A large number of eating places participate in this festival; it is also an ideal opportunity for New Orleans to display its art and culture. One of the main events of this festival is the Royal Street Stroll. The participants get a chance not only to satisfy their palates by sampling a variety of wines and tasty tidbits, but also get a chance to see the artistic masterpieces from conventional to contemporary art and sculptures.
Antique jewelry and other antique objects are also exhibited. Live Jazz performances, as you stroll by the Royal Street, make it all the more enjoyable. In the Krewe of Cork parade, the participants put on wine themed dresses and march through the French Quarters.
The festival also aims at educating the participants on the intricacies of food and wine through seminars. You can gain a lot from the useful tips given by chefs and wine makers about the latest trends and tastes and you can also learn which wine pairs off best with which cuisine.
In New Orleans Winne and Food Festival there are a lot of fun events for people to take part in. The Grand Tastings is voted the most enjoyable event of the festival.
400 wineries and over 50 restaurants try to outdo each other for the first three best dishes prizes. A panel of experts judges these dishes. Cooking demos are worth watching if you take the art of preparing food seriously.