Dawat-e-Ishq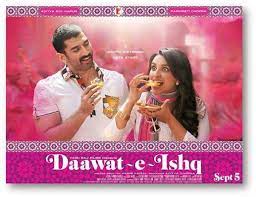 If you follow Anupam Kher on Twitter then you must have seen gazillion tweets being retweeted by that account and all of them are head over heels in the praising of "Dawat-e-Ishq". And all those tweets are praising the performance of Anupam Kher.
Well there is no doubt about him being a brilliant actor but this wasn't the best of his, looks like those kids on Twitter haven't watched him in Ram Lakhan, Tezab, or Lamhe there is a long list. Dawat-e-Ishq is not as brilliant a film as it was received and what reason I think for that response is if I state it I will be declared as a bigot.
Dawat-e-Ishq is an example of a film that successfully wasted a great topic or concept. Dowry is a good topic to work on but the film completely wasted it to add Massla to it. Yes, the music of the film was better than the other film released on the same day but again pasteurization of "Mannat" was a great disappointment because the kind of feel the audio of that song gives was completely absent in the visual version of it.
Parineeti Chopra, in my opinion, needs to reconsider her choice of films because it's her third film in a row which was some way or the other similar, or at least her role and acting were monotonous. While other new faces like Sonakshi with "Lootera" and Alia Bhatt with "Highway" have experimented and showed that those girls can act they can act well. Something that Parineeti should consider surviving in the longer run.
Khoobsurat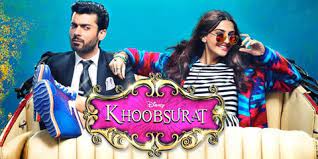 Now comes to "Khoobsurat" well it is exactly as dome one summarized it that Fawad Khan is khubsoorat and Sonam Kapoor was beast. First of all, you cannot compare this Khubsoorat with the 80s one there was nothing similar in it, the story was all royal and princely because it was produced by Disney.
Sonam overdid it in her attempt to do Rekha. Rekha was bubbly someone who is trying to have fun with grace however the Dr. Chokerborti that Sonam played was more ill-mannered than khubsoorat (beauty), too loud too annoying who has no clue that there is a difference between being funny and pain.
The film sums up quite quickly without anyone having any miserable death, hero killing dozens of goons or a signature Bollywood melodrama. The real-life line of the film wasn't Fawad, yes he became the USP of it but the real-life to the film was added by the role of Manju portrayed by Kirron Kher.
If she has had not played that role film would have been utterly boring or simply three hours long visual promotion of Skype and Apple's handheld devices. And honestly speaking only Kirron Kher can pull a roll of such loud Punjabi Mom's character.
I liked Khubsoorat more than Dawat e Ishq it has nothing to do with the Pakistani element in the former it had, with all of its flaws, that Disney Pictures' charm that makes one watch the film over and over again.
On the other hand, Dawat e Ishq wasted a good topic and also failed to be funny enough they way they tried it to be. In the battle of Kher vs Kher Kirron Kher wins this one.
In the end, I would love to mention my observation about Sonam Kapoor in Khubsoorat. While the outfits and overall looks of Fawad Khan were completely classy the wardrobe of Sonam Kapoor was more of a tribute to Govinda as only he can pull so many colors in one dress.
Also, we all know that Sonam is still Daddy's (Anil Kapoor) little girl but Anil Kapoor Films should realize that given 90% of the film time to the screen presence of Sonam Kapoor won't make her good actress that will highlight how bad actress she is and how much effort she puts in her bad acting.