Some spots worth mentioning are:
1. Pir Chinassi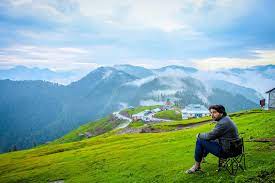 Pir Chinassi is a large mountain located at an elevation of 2900 meters. It offers an awesome view of Muzaffarabad city. Its claim to fame however is the tomb of a saint (pir) at the mountain peak. There is also a trekking route at the foot of Pir Chinassi.
2. Neelum Valley & Jhelum Valley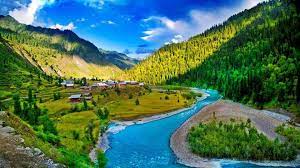 These river valleys with their mesmerizing beauty are an ideal tourist spot.
3. Leepa Valley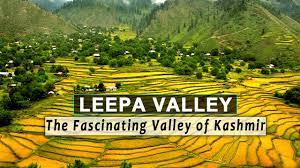 Known for its dry fruits and honey, Leepa is another place where you would like to go for a relaxation.
4. Sharda Valley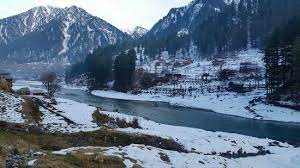 It is also famous for its picturesque scenery. Sharda has many cool water springs. Shardi and Nardi are two peaks overlooking the valley.
5. The Forts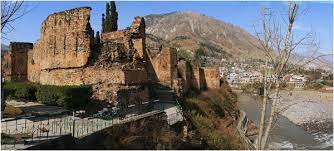 The Muzaffarabad Fort or the Red Fort and the Black Fort are also major tourist attractions.
6. Ath'muqam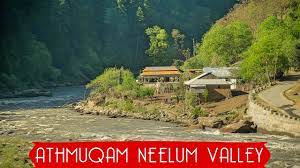 It is situated at a height of 1371m, it is the sub-divisional headquarters of the area and is an attractive place known for its variety of fruit. All necessary facilities like bazaar, post office, banks, hospital, and telephone exchange are present. The awe-inspiring locus, with an altitude of 3110 m, it is located 32 Km east of Muzaffarabad.
The fascinating beauty of the place wins the admiration of nature lovers. The view of the summit at the neighboring mountain peaks spell bounds of tourists. The devotees of Saint Pir Chinassi come in large numbers to pay homage at the Shrine.
7. Shaheed Gali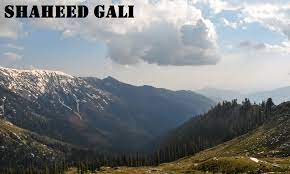 The comely beauty of this place attracts a restive mind to prolong his stay. The picturesque Shaheed Gali, situated at the height of about 1640 meters above sea level is at a distance of about 16 kilometers westward from Muzaffarabad.
From Shaheed Gali a trek of 4 Km leads towards a wholesome spot namely "Sri Kot". A tourist is bound to be fascinated by the serenity for the backdrop of the area. A Tourist Rest House is available for accommodation at Shaheed Gali.
Being the capital city is not only the hub of political and cultural activities but it also serves as a base camp for the tourists. It has various spots of leisure. View point Sathra, a public place, unravels the panorama of the entire city before a beholder. The junction point of the river Neelum and Jhelum presents a magic beauty from here.
Lohar Gali situated 9 kilometers from Muzaffarabad on Abottabad road. The Red fort is a witness to the ancient history of this great city. The local market in Muzaffarabad can be explored for walnut carvings, Kashmiri shawls and other traditional handicrafts.
It is always possible to get a good bargain. It has besides official buildings; farms, parks and historic fort standing on the bank of the Neelum. Shopping is an exciting activity in Muzaffarabad and you can shop for Kashmiri shawls and walnut carvings.