Ambreen Salahuddin is one of the best women poets from recent times I have read. All About Pakistan team met Ambreen at her residence to interview her.
Ambreen Salahuddin proved to be a great host. She welcomed us into her artistically set home with a welcoming smile. The poet in her is too visible. No wonder Ambreen has proved herself to be one of the finest poets in Urdu language in recent times.
Ambreen Salahuddin completed her graduation from Lahore College for Women Lahore. She holds an MA in Philosophy and another in History, both from University of the Punjab. She is working on her Ph.D. as of now. Ambreen Salahuddin has published three books so far. Her first book, "Sar-e-dasht-e-gumaan" was published in 2004.
This book was awarded the best first book award by PEN. In 2005 Ms. Salahuddin published "Feminism in modern Urdu poetesses (1857-2000). Her latest collection of her poetry "Sadiyon Jaise pal" was published in 2014.
After settling down and exchanging pleasantries, we got down to business. Famous Urdu poet Ambreen Salahuddin had very clear and well defined answers for all our questions. "Exactly how is one to draw the parallel between women and poetry?" she says.
"This here, is a question that has been explicated for the longest time. Because where on the one hand we often allude to the basic difference in 'intellectual level' between men and women of this art, it is also seen that whenever we speak of Urdu poetry, numerous female names seem to dominate. Although women are proven to be 'more creative', still today we don't see too many successful names which could prove this creativity right. Thus I never understood the question. No, I don't blame the society; this is simply a preoccupation of our times."
Ambreen believes that the women who really stand out are those who a) have ample time to invest in the art and b) those who 'ride solo'. She mentions, for instance, the name of Quratulain Haider which strikes her as such, suggesting that indeed, those who function as a sole entity are the ones who really make it big.
"I mean, if Lata Mangeshkar sings for an audience, there is no mention of any Asha Usha", for each stands alone as an equally powerful force.
According to her, in today's era, the majority does not write well-not as good as it used to be. Urdu poetry in recent times has evolved, and so have the poets. This, however, is truer for men than it is for women, popular Urdu poet Ambreen Salahuddin says.
Often the future of literary art was anticipated and rather dreaded, for it was said that the art would be left devoid of afsanas, ghazals- that even the language ('zubaan') would not hold the same power.
"There has definitely been a change, a change in words, in references, even names. But perhaps another ten to twenty years, and we'll know for sure what change have really taken place. At this very moment it would be slightly difficult to spot a Ghalib here and a Faiz there from amongst the hundreds of artists." This is not how it works, says Ambreen.
Ambreen Salahuddin goes on to say that indeed, Art does not progress like science; a man's art dies with his last breath. Sure the legacy remains, it ought to remain, and that's how it is.
Often in Faiz's technique we see a little bit of Ghalib surfacing and just like this, there are countless who attempt to employ such techniques within their own work. But language and technique aside, the real question, according to her, still remains.
"Who are you? The amount of effort you have put will be rendered utterly useless if it fails to 'affect' the reader. What's more important than language and technique is 'taasur', the impact.
Speaking of impact, Ambreen Salahuddin talked about the sharp decline in Ghazal singing. "Where at one time," she said, "Mehdi Hassan, Iqbal Bano, Farida Khanum and such maestros worked towards expanding and popularizing the trend, what appears now is that this is one legacy that no one seems to want to pursue".
She believes that this is perhaps because there's an evident lack of credible artists (as far as ghazals are concerned), and even if they are present, there isn't anyone to guide these poor souls. At one time, the Golden Age of art perhaps, connectivity was the norm but now this is not so.
"With the poet working elsewhere and the afsana (story) writer somewhere else, each seems to be too immersed in his own line of work, drawing certain boundaries between these facets of art which in reality are all interconnected."
And so she feels that perhaps this is another reason for the decline of the ghazal legacy- lack of connectedness. The culture is unaware of its most vibrant poets, and the nation does not know what incredible artists exist. No one knows anyone.
Upon being asked as to whether she plans on doing some 'afsana' writing, she said that the idea has crossed her mind numerous times but as yet she has not done any writing.
When asked about how she decides if a piece of poetry or an afsana is written well or not, Ambreen Salahuddin replied that "The only thing that matter to me is impact. In a lighter tone it is sometime said that everyone finds some audience for whatever art they have. But that is not long lasting. Ghalib is still Ghalib because of the quality of his art".
"There is a word that is often used in the field of art, 'originality'." The audience, she says, plays a very vital role. One's work must be targeted for that specific original audience and this piece of work could either make you or break you, hence "it is very important to consider the audience- quality pe no compromise"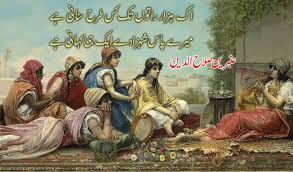 Ambreen Salahuddin quotes Mehboob Khizan's couplet,
"baat ye hai k aadmi shayar
ya tau hota hai, ya nahi hota",
That is, a man either is a poet, or he simply isn't. Famous Urdu poet Ambreen Salahuddin believes that if you have the drive to write or pursue your art, then you find ways to 'manage life'.
"I am currently doing my thesis for PhD and I am teaching at the same time, but my routine does not collide at any point, in fact, I feel like 24 hours is a lot for me to further fit in 2-3 more things to do."
Speaking of female writers, Ambreen says that many of the recent credible writers are female- "Kamila Shamsie", for instance is a brilliant writer who has written mostly in English language.
She feels that females have been always restricted to a specific class, and whenever a woman expresses herself, she breaks the stereotype because expressing in itself is going against the tide, and for it to be done by a woman is definitely something.
And the next step, she deems, is that of sharing and spreading awareness, because that is what this society lacks. Once more Ambreen Salahuddin, the famous Urdu Poet alludes to 'originality'- originality in expressing oneself.
"You are an individual, and that is what you will express." Ambreen ends on this very note, that it is your individual idea that you must express, the original 'ingredients' are what must come out.
After an interesting and very informative evening with Ambreen Salahuddin, we left her residence. We Wish Ambreen all the best and we are for sure waiting for her next collection of poetry.