IIFA Awards 2014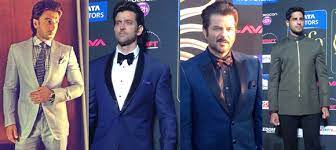 The much awaited 15th International Indian Film Academy Awards (IIFA) was held in Tampa Bay, Florida USA on 26th April, 2014. The venue Raymond James Stadium was packed to capacity with fans of Indian films from all over USA.
Shahid Kapoor and Farhan Akhter who had hosted the show in the past were again chosen to host the event which is one of the most prestigious award ceremonies of the Indian film industry.
Dignitaries and celebrities from both USA and India attended the award ceremony which was a fine display of Indian film culture. Actors including Ranveer Singh, Hrithik Roshan, Sidharth Malothra, Deepika Padukone, Prianka Chopra, Sonakshi Sinha, Bipasha Basu, Kareena Kapur and Madhuri Dixit enthralled the jam packed stadium with their enthralling performances.
US actor Kevin Spacey also did the lungi dance number with Deepika Padukone. US actor John Travolta danced alongside Priyanka Chopra and Hrithik Roshan and received a special award "'Most Popular All time International star in India' from Hrithik Roshan.
Bhaag Milka Bhaag was declared the best movie of 2013 and won awards in many categories including main categories of Best Actor Male, Best Director and Best Supporting Actress Female.
Farhan Akhtar (Bhaag Milkhs Bhaag) and Deepika Padukone (Chennai Express) won the best actor and actress awards respectively. The ceremony ended in typical Bollywood song and dance extravagance style.
Filmfare Awards 2014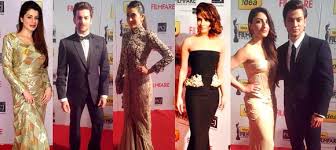 The 59th Filmfare Awards were held in Yash Raj Studio in Mumbai on 24th January, 2014. The awards were hosted by two of the most talented and popular Bollywood actors Ranbir Kapoor and Priyanka Chopra who entertained the audience with their witty remarks and good humored banter.
Almost the entire film industry was present on the occasion; the highlight of the 59th Filmfare Awards was Salman Khan who graced the occasion with his presence after around fifteen years. Actors Shahid Kapoor, Katrina Kaif, Madhuri Dixit, Salman Khan and Ranveer Singh set the stage on fire with their sizzling performance.
Bhaag Milkha Bhaag one of the most successful movies of 2014 bagged the most awards including those of Best Film, Best Director, Best Actor (Male, Farhan Akhtar), Best Lyrics, Best Production Design and Best Costume Design while in the music category Aashiqui 2 made a clean sweep. Ram-leela also won three awards including the best actress female (Deepika Padukone ) and best female actor in a supporting role. Veteran actress Tanuja won the lifetime achievement award. In fact, the most hilarious incident was when paying accolades to the actress in Hindi Karan Johar stumbled on a single line a number of times leaving the audience in stitches; finally Farhan Akhtar had to come to his rescue. Overall it was an entertaining and enjoyable night.
Screen Awards
The Life Ok Screen Awards 2014 held on 14th January, 2014 was the first award ceremony of the year and set the ball rolling for other awards. The Life Ok Screen Awards were hosted by none other than King Khan of Bollywood Shahrukh Khan. Shahrukh Khan is known for thrilling the audience with his amusing remarks and he lived up to his reputation as he entertained the audience with his humor.
The highlight of the show was spectacular and energy packed performances from Shahid Kapoor, Varun Dhawan, Deepika Padukone, Ali Zafar and Ranveer Singh. Ranveer Singh paid a musical tribute to senior actor Govinda as he performed la Govinda style on his hit songs.
Actor Sonu Sood's daredevil performance took the audience's breath away as he performed a bike action stunt live on the stage. Later Sonu danced to the tunes of Dabbang film in which he played the villain.