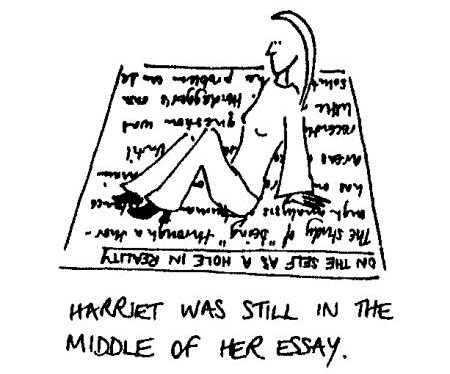 Unless you're enrolled in a college-level writing course, you won't get much chance to have fun penning essays after you graduate from high school. Though essays, and essayists, were once literary icons, the art has declined in recent decades. The heyday of the essay saw the likes of Ralph Waldo Emerson and Henry David Thoreau reinventing the work. While you might not have ambitions to reach their lofty status as a writer, there are steps you can take to make your essays better.
Often people confuse essays and short stories. Essays are not works of fiction. Nor, however, are they totally unbiased facts. If I had to describe them I'd call them "opinionated prose". The writer draws from facts, but liberally interprets those facts from his or her personal point of view. So the first step (after picking a topic, of course) in writing a good essay is to gather the facts you'll need to work with. You can use the same sources for research you would for a paper on the subject. You just don't need to worry as much about citing your sources.
Next, you'll need to write the essay in a typical format. In other words, you'll want an introduction, a body and a conclusion. Since essays can be a page long or sixty pages long, you will have to consult your facts, your feelings and, if being published, your editor's guidelines when you create the outline you'll follow. Even with an essay, an outline can help you stay focused and on track. It can be easy to meander off the path if you're writing about things you care about.
That's the next step. You need to own the words you are writing. It is "your" essay. You are the writer and the opinions and observations included in its contents should be yours. While you might admire experts in the field of your topic, you shouldn't quote them unless citing the quotation properly. As a rule, quotes from other sources often feel awkward in a personal piece such as this. Don't just echo other people's ideas, express your own. That is what an essay is for.
So, when you want to pen a good essay, you will first research your topic (and don't omit opposing points of view in your reading!). Then, you will lay out the format in an outline to keep yourself from getting away from your point while you work. Then, finally, you'll own the piece, making it yours personally. The end result should be a quality work that, while it might not rival Emerson, should prove interesting and informative for your readers.
An essay is an important piece of writing. The importance of essays cannot be ignored especially in academic settings. Each student is assigned more or less one assignment demanding an essay to be written on a certain topic. Essays have a standard format which is to be followed by the writer. Anyone can become adept at writing essays provided he keeps some steps of essay writing in his mind.
Mind the thesis statement
The essays basically start with a thesis statement which introduces the reader to the essay. Be careful about it and make it seem comprehensive and appealing. It is important to tell the reader background information about the topic briefly also.
Elaborate on the supporting ideas
After introducing the main ideas of the essay, you need to explain the supporting ideas in details. In the main body of the essay, write supporting paragraphs describing each idea. You can give a lot for references in the body to authenticate your essay. Use genuine sources and add information in the essay with proper referencing.
Write impressive conclusion
The last part of an essay is conclusion. Focus on it to help readers get an overview of the entire essay. Summarize the essays in two to three lines and write conclusion accordingly. Make it seem rational and justified according to the body of the essay.