Pakistani Cricket Player Iftikhar Ahmad: Background
A well-known, skilled Pakistani team player marked for his comprehensive talent in the cricket field. Pakistani cricket team player Iftikhar Ahmad is not only lauded for his one skill but he is a noticeable in the cricket field for his innumerable abilities. He is a brilliant right-arm off-spin bowler and a remarkable right-handed batsman. Iftikhar is also famous for his fielding skills.
Iftikhar h is a valuable asset to the Pakistani cricket team. This skilled batsman belongs to a Pashtun family. He has constructed a cricket stadium in his hometown to foster the growth of local talent. This genius all-rounder is capable of giving the most elegant and smooth shots on the cricket field. In a T20 International match against England in November 2015, he made his cricket team debut for Pakistan. He has also competed for Pakistan in Test and One Day International (ODI) games. Iftikhar has been an important player for Pakistan in limited-overs forms and is well-recognized for his hard-hitting batting style. He is been serving Pakistan's cricket team on all stages.
Pakistani Cricketer Iftikhar Ahmad: Bating and Bowling Statistics
Pakistan cricket team player Iftikhar Ahmad is proficient at both bowling and batting. Nawaz, for his expertness, is capable of pitching in many areas of the game and giving his team more power. His unusual mode of playing cricket on the national level made him distinguished and he was chosen to play for Pakistan on the International stage. He can perform effectively in a variety of batting positions thanks to his versatility, which makes him a great asset in many match scenarios.
He appeared in 224 T20 matches and made and made massive 4329 and also took 45 wickets. Moreover, Pakistani cricket team player Iftikhar played 49 T20 international matches and collected 814 runs. Iftikhar is renowned for his forceful and exciting batting approach. Particularly in limited-overs forms like T20s and ODIs, he has the capacity to increase the run rate and play significant innings. His ODI career includes 12 matches in which he made a total of 246 runs. He has shown poise and the capacity to execute well under duress, which is essential in close games or at pivotal moments of a game.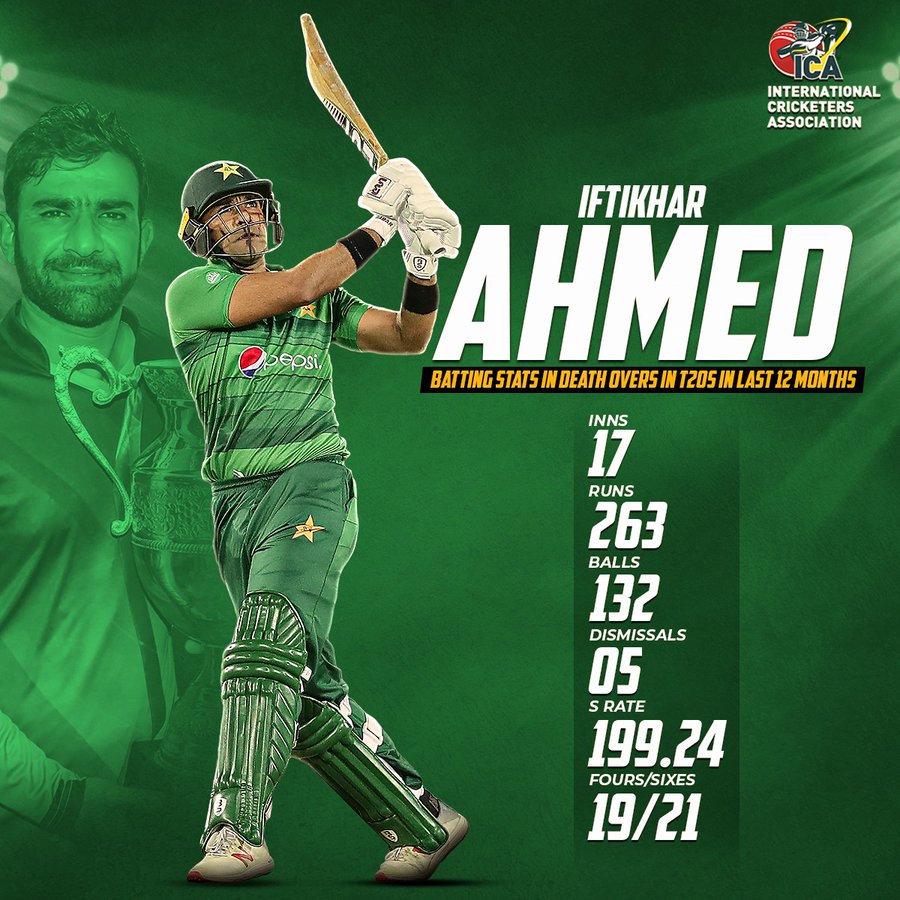 Pakistani Cricket Player Iftikhar Ahmad: Records
Pakistani all-rounder Iftikhar Ahmad earned a great name through his breathtaking performances in different leagues. Iftikhar Ahmed has participated in ODI matches for the Pakistani national cricket team. He has contributed significantly to ODIs and performed match-winning innings, frequently displaying his capacity to raise the run rate and play aggressive innings. Thus, his utmost energetic performances and his high spirit led him to success.
Nevertheless, Pakistani cricket team player Iftikhar Ahmad in T20Is played match-winning innings and contributed with both bat and ball, also his off-spin bowling has been known to create crucial breakthroughs. In October 2015, he was the top scorer for Pakistan A in their two-day encounter against England. In year 2019 Iftikhar was selected to play for Pakistan's 16-man team for the game that was held against Sri Lanka. Iftikhar was one out of the three players that were demanded back to the team. In the year 2020, he was given a contract by the Pakistan cricket board. Iftikhar took his first five-wicket haul in ODI cricket in 2020, in the second match against Zimbabwe. His strength, focus, and unflinching drive are amazing. His contributions to the team are priceless. We hope that he continues to make us feel proud of him.