The last thing Marvel needs after more than a decade and dozens of films and television shows are for things to get more confusing. Despite this, Doctor Strange in the Multiverse of Madness, which is currently in theatres, creates a headache-inducing jumble of backstory you may or may not recall, different genres and tones, and a slew of new characters — including alternate versions of old ones. Is this the film in which Marvel loses its audience?
With the recent premiere of Doctor Strange in the Multiverse of Madness, the Marvel Cinematic Universe is back on track with blockbuster films. The sorcerer turned accidental multi-versal interloper's second main outing promised a lot of thrills and implied cameos, but did it deliver? Let us have a look.
Story
Doctor Strange partners up with a strange teenage girl from his nightmares who can travel across multiverses to fight a variety of challenges, including the other versions of himself that threaten to wipe out millions of people across the multiverse. Wanda the Scarlet Witch, Wong, and other characters are enlisted to assist them.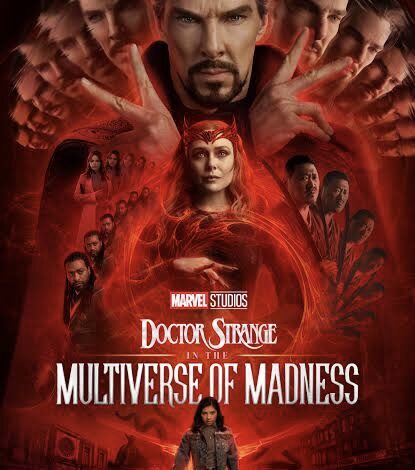 Review
The villain is the finest element of Marvel's latest picture. Contrary to popular perception, the villain might be a fan favorite of the audience.
Dr. Stephen Strange has lately cast a forbidden spell that opens the multiverse in "Dr. Strange in the Multiverse of Madness," which was released on May 6. Dr. Strange is on a mission to save teen America Chavez, a teenage anomaly with the ability to travel through time and space. Wanda Maximoff, an old friend and former superhero, is introduced as our adversary. The action/horror film pushes the boundaries of good and evil. Wanda Maximoff is well-known among Marvel fans. In the spin-off series "Wanda Vision," the imaginary witch was the main character. Wanda has suffered several tragedies in the Marvel Universe, including the deaths of her brother, husband, and children.
The film appears to be a balancing scale, with the audience never quite sure which way to turn. Some cinematic scenes are stunning, while others appear to have been shot after several Red Bulls. Similarly, some brilliant moments in the writing were ruined by clichéd one-liners.
The action sequences are quite enjoyable, with only a few of the jump cuts that Marvel is notorious for. However, the film highlights an issue I have with anything involving Wanda or the title Dr. Strange. Because they both use a mash-up of magic, viewers have no idea how powerful they are or what is going on. The fighting sequences look terrific, but I had a hard time saying anything once the movie shoved it down my throat that who was the one winning among them.
Another aspect that the film excels at is having fantastic cameos from fans. Professors X, John Krasinski, and Black Bolt, Richard Reed were all welcome additions to the film, despite their brief appearances. But if anything, I wished for more time with all those characters, and at the very least, their presence allows Marvel to do more with their narratives in the future.
Rather than being a standard Marvel action blockbuster, the film has been described as a horror film. Jump scares and blatantly violent CGI effects, such as a corpse version of Dr. Strange and a bleeding Wanda Maximoff, are used in the film. While the special effects are intriguing, they only serve to distract from the plot. The gore's effect is frightening and, at times, too unbelievable. Despite solid character journeys and plots, the Marvel picture falls short when it comes to the "horror factor."
Despite the movie's significant moral concerns, the special effects collide with the characters and plots. Charles Xavier, Black Bolt, Captain Carter, Captain Marvel, Mr. Fantastic, and Mordo are among the beloved superheroes featured in the film, which come from several comic books and spin-off series. The presence of these people is purely for the benefit of the audience, as each of them only gets five minutes of screen time before being killed off by the film's villain.
Throughout the film, actress Elizabeth Olsen terrified me to death. Wanda's actions are insane and deranged, and she is willing to kill anyone to reclaim her sons, including the lost and terrified America Chavez. Wanda goes on a killing spree in an alternate reality, slaying superheroes in one scene in particular. Wanda is dressed simply in a white sweater and slacks in this scenario. She walks barefoot and has half her face covered in blood. Wanda's apparent disregard for logic as she murders these people illustrates her spiral into insanity. As we witness Wanda murder thousands of people and construct alternate universes, we're shown a side-by-side comparison of everything Dr. Strange has lost.
Wanda Maximoff is the best character in the "Multiverse of Madness." Wanda's experience involves coming and beautifully reflects Dr. Strange's journey. Attempting to make this a popular horror film, on the other hand, detracts from Dr. Strange's plot. The film loses the impact of its selected characters and rushes critical concepts in favor of fan service by focusing on future Marvel films.
Conclusion
"Doctor Strange" makes a deliberate effort to tell its own story, and among recent films, I believe it succeeds without relying on the crutch of elongated storytelling. It may be better, but it could also be a lot worse! When I go to a Marvel movie, I have learned to keep my expectations in check. I think it's appropriate to say that I appreciated the film once more. I wasn't expecting award-winning writing or cinematography, but I had a good time with what was shown, that's all that needed. Aside from my trolling, the cast delivers solid performances and the storyline is mostly self-contained.
Overall, I would give "Doctor Strange in the Multiverse of Madness" 7 out of 10 ratings. An entertaining film with a great cast and plenty of action, not to mention a few horror movie scenes thrown in for good measure.