Roger Federer married Mirka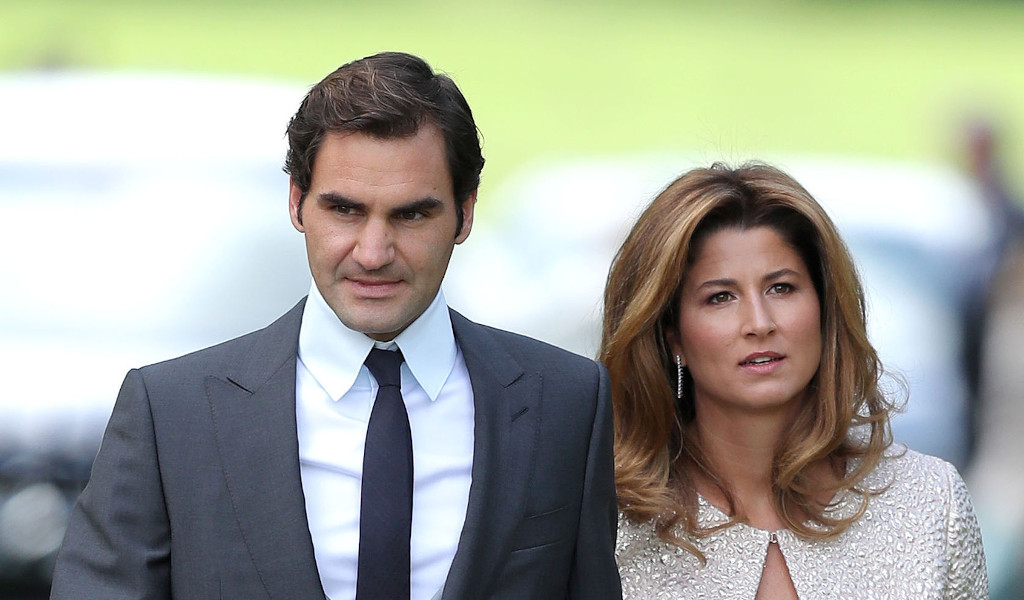 Roger Federer married Mirka (Miroslava) Vavrinec of Slovakian origin on April 11, 2009, after an eight-year-long relationship with her. A month earlier, both had announced that they were expecting their first child.
Federer announced his wedding on his official website that evening, quoting it to be a beautiful spring day. The wedding was a small ceremony held at his hometown in Basel, Switzerland. 39 guests attended the wedding.
Mirka wore a white empire dress, while Federer wore a three-piece black suit. Mirka's wedding ring was made by her father who is a goldsmith. At the reception, Swiss dishes were served and the celebration went on until after midnight.
They sold 12 of their wedding photos to Schweizer Illustrierte, a Swiss magazine. The money was donated to Roger Federer Foundation, an organization that helps children with good athletic abilities but is financially poor. It also does relief work in Africa.
The editor in chief of the magazine says that he maintains good relation with Federer's family for years. On July 23, 2009, Mirka gave birth to twin baby girls named Charlene Riva and Myla Rose. Mirka is four years older than Federer, yet they share an inseparable bond.
Mirka, like Roger, was a tennis player. She was among the top 100 women once. They both met in the 2000 Olympics in Sydney. In the Olympics, they were both representing Switzerland.
She retired due to a foot injury and since then, she has been working as Federer's public relations manager. Their marriage has been successful just like Federer's career and Mirka is always beside her husband in every match!
Andre Agassi and Steffi Graf – Sensational Tennis Couple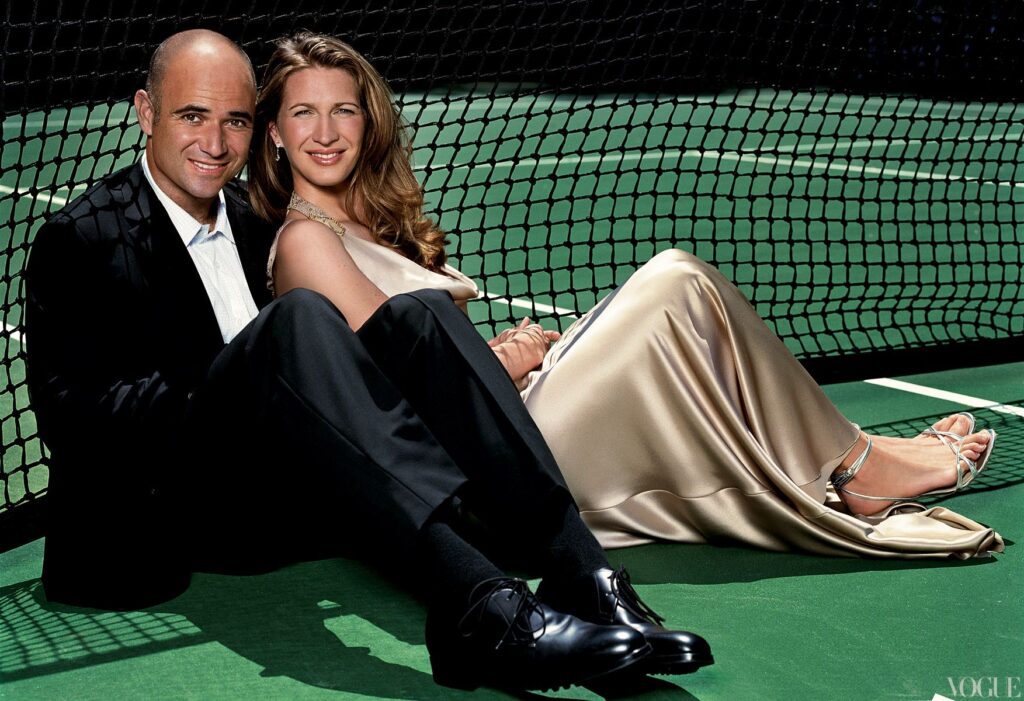 Andre Agassi and Steffi Graf have been big tennis sensations and this sensation got better when Graf and Agassi got married. Their relationship began in 1999 after their combined surprise-win at French Open. It was a surprise because neither one had won a Grand Slam since 1995.
At that time, Graf had a breakup with her boyfriend, a German car racer, after a seven-year relationship and Agassi divorced his wife Brook Shields after two years of marriage. Graf is one year older than Agassi. The couple married on October 22, 2001, in Las Vegas.
The ceremony was attended by the couple's mothers only. Not even Graf's father and sister attended the ceremony. The vows were exchanged in front of Agassi's family friend, a district judge, Michael Cherry.
The wedding was a surprise even to the other family members. However, they did not show any bad feelings for not being invited to it. The reason behind such a private ceremony was Graf's pregnancy and the couple wanted to be married before having the baby. Graf was nine months pregnant when they both married.
They had their honeymoon after the arrival of their baby boy. After four days of marriage, Jaden Gil, their son, was born. After two years, Steffi gave birth to a baby girl. Those close to them can feel the couple's extreme love for each other and those around them. Graf had already retired before her wedding after the 1999 Grand Slam award, but Agassi continued his career until 2006 after which he retired because of sciatica.
Pete Sampras' Wedding- Charming and Glamorous Couple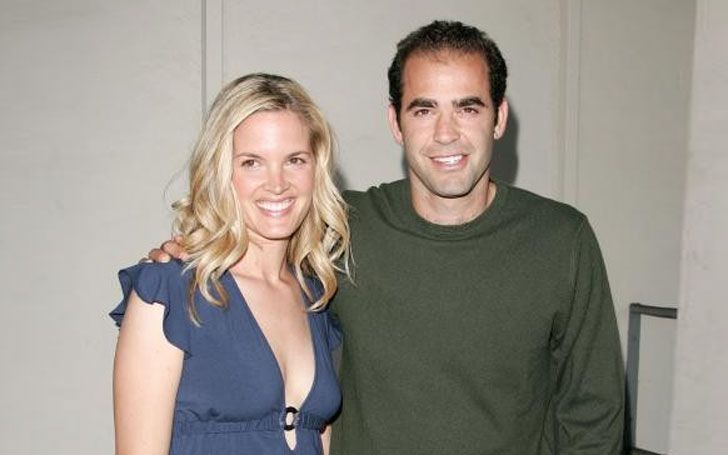 Greatest tennis player, Pete Sampras, a seven-time Wimbledon champion, first saw actress Bridgett Wilson in 1999 and soon fell in love. They had a love affair for nine months after which they finally decided to marry. The wedding took place on September 30, 2000, in Pete's backyard.
The wedding was planned by the Laurels Custom Flora and Events planners along with the bride's sister. Eighty guests attended the wedding among which was Pete's fellow, all-star hockey legend Wayne Gretzky.
The bride's dress was delivered a day before the wedding via Fed-Ex. It was a long V-necked silk georgette body conscious dress while the groom opted for a black tuxedo. Two flower girls wore white dresses designed by the same designer who made the bride's dress.
The couple had their first dance as a husband and wife on a ballad by Diamond Rio "I Know How the River Feels." The father and the daughter danced on the soft tunes of "I Love You Enough to Let You Go."
Music sensation Elton John gave a surprise visit and a 45-minute long performance; including the love song "Can You Feel the Love Tonight." A lemon strawberry three-tier cake was cut.
Pete Sampras broke a plate along with his sister Stella, which is supposed to bring good luck according to a Greek tradition. They distributed almonds, as well, to all the guests; that is considered a symbol of fertility according to a Greek tradition. After the wedding, the couple went to Mexico for their honeymoon. They now are parents of two sons.