John Pius Boland
John Mary Pius Boland (16 September 1870 – 17 March 1958) was an Irish Nationalist politician and Member of Parliament (MP) in the House of Commons of the United Kingdom of Great Britain and Ireland and a member of the Irish Parliamentary Party for South Kerry 1900-1918. He was also noteworthy as a gold medallist tennis player at the first modern Olympics
Laurence Doherty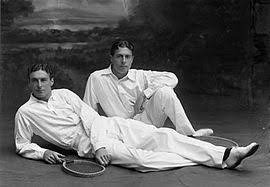 Hugh Laurence "Laurie" Doherty (8 October 1875 in Wimbledon, London – 21 August 1919 in Broadstairs, Kent) was an English tennis player and younger brother of Reggie Doherty. He was an Olympic gold medalist in the sport.
Doherty was the shorter of the two brothers, at 5-foot-10, who played championship tennis in their native England and at Wimbledon at the turn of the century.
Beals Wright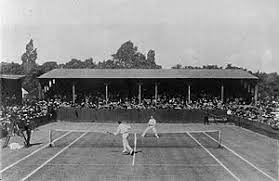 Beals was born in Boston, Massachusetts, the United States, the son of Cincinnati Red Stockings great George Wright and nephew of Cincinnati Red Stockings team founder Harry Wright. In 1890 Beals Wright traveled with his father George to California where he played at the Delmonte Tennis Championship in Monterey.
George Wright managed the team the same year he coached at Harvard. Two Harvard University players participated in the DelMonte Tournament-the first time east coast players took on California tennis champions.
Josiah Ritchie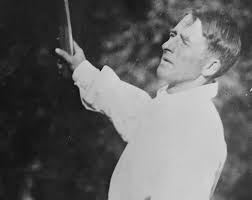 Major Josiah George Ritchie (18 October 1870 – 28 February 1955) was a male tennis player from Great Britain.
He was born in Westminster and died in Ashford, Middlesex.
Educated at Brighton College, he is best remembered for being a three-time medalist at the 1908 London Olympics. At the Games, he won a gold (men's singles), silver (men's doubles), and bronze (men's indoor singles) medal. In 1908 and 1910 he and Tony Wilding won the doubles in Wimbledon.
In 1909 he lost the Wimbledon singles final. He also won the Irish championships in 1907 and the German championships 1903 – 1906 and 1908 (in 1904 and 1906 also the doubles there). In 1908 he was a member of the British Davis Cup team.
Charles Winslow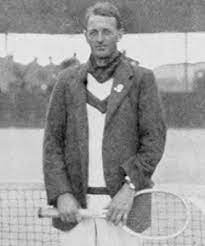 Charles Lyndhurst Winslow (August 1, 1888 – September 15, 1963) was a three-time Olympic tennis medalist from South Africa. He won two gold medals: men's singles and doubles at the 1912 Summer Olympics in Stockholm. Eight years later, in Antwerp, Winslow won a bronze medal in the men's singles event.
Louis Raymond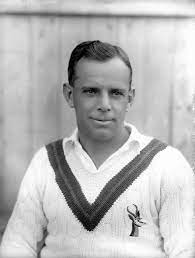 Louis Raymond (1895 – 1962) was a male tennis player from South Africa. At the 1920 Summer Olympics in Antwerp, Belgium, he defeated Ichiya Kumagai in the finals to win the gold medal.[1]
In William Tilden's book, The Art of Lawn Tennis, Raymond is described as a "hard-working and deserving player" and someone who "attains success by industry rather than natural talent"
Vincent Richards
Vincent "Vinnie" Richards (March 20, 1903 – September 28, 1959) was a top American tennis player in the early decades of the 20th Century, particularly known as being a superlative volleyer.
Tags: Countries in Olympics, Tennis Players