Hockey is the national game of Pakistan. Hockey was played in the sub-continent before partition. Pakistan had many talented hockey players at the time of partition.
The first tournament the Pakistan hockey team played was on 14th Olympic Games. Pakistan faced Belgium and defeated it 2-1 on 2nd August, 1948.
With hard work and dedication, Pakistan hockey team made a name for itself as a strong team. It played many international tournaments and emerged as a winner. Till late 70's, it held almost all the major titles. Olympics, World cup, c.
The introduction of "Astroturf" caused the decline in Pakistan hockey. Pakistan's Hockey's standard deteriorated gradually and it has not been able to regain its former glory despite several attempts.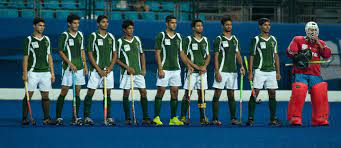 TOP TEN PLAYERS:
1. Islah-uddin
2. Sami-ullah
3. Kalim-ullah
4. Hassan Sardar
5. Qasim Zia
6. Athar Rasool
7. Hanif Khan
8. Sohail Abbas
9. Mohammad Saqlain
10. Waseem Ahmed
We are a cricket crazy nation. For most part of the year, we are gripped by cricket fever especially if Pakistan is playing. Even on streets you can see small children playing cricket.
Pakistan played its first international test match against India in October, 1952. The tour of England in 1954 was its first international tour. Pakistan team is a bunch of talented but emotional players. The Pakistani bowlers have introduced many new bowling strategies and have often been accused of ball tempering.
These accusations have proved to be baseless. Like all other geniuses, Pakistani players are simply ahead of their time. Pakistan team is unpredictable.
In 1992, they were the underdogs who astounded the world by defeating England in the final of the world cup. In 1999, they were the strongest team but lost cheaply to Australia in the finals. Currently Pakistan team is the World T20 champion.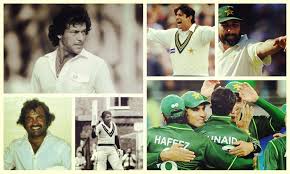 TOP TEN PLAYERS
1. Hanif Mohammed
2. Zaheer Abbas
3. Saqlain Mushtaq
4. Waseem Akram
5. Saeed Anwar
6. Javaid Miandad
7. Waqar Younus
8. Waseem Bari
9. Imran Khan
10. Shahid Afridi