Ayubia: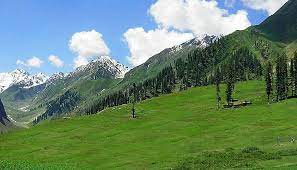 The hill station of Ayubia is situated between Murree and Nathia Gali at an altitude of 8000 feet above sea level. It comes under the Hazaara District administration. The cool climate and picturesque scenery has made it is a popular domestic tourist spot. People from all over Pakistan throng Ayubia to escape from the scorching summers.
Ayubia offers a lot of activities to the tourists. Apart from hiking and trekking, one can enjoy the chair lift rides. Chair lifts in Ayubia are the oldest in the country. The chair lifts were installed in 1969-70 and take you from Ayubia to Khanaspur near Murree Hills.
Another thing to keep the visitors busy is the Ayubia National Park. The park covers an area of 3128 hectare acres and is a safe haven not only for threatened animals and birds but also for the alpine forest.
The park is a sanctuary of the endangered mammals such as the leopards and the black bear. The Koklass Pheasant and the Kalij Pheasant which were on the way of extinction are found here. Hopefully there number will increase in this park. The park is ideal for bird watching as a number of species of both resident and migratory birds are found here.
Another amusement is the riding trails or if you are fond of hiking, just follow the pipeline trek which passes through the Ayubia National Park and leads to Dunga Gali. The scenic beauty of the pine clad hills and the breath taking views of River Jhelum makes this 50 minute walk an unforgettable experience.
Ayubia National Park: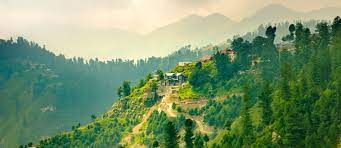 Ayubia National Park is situated in Ayubia, a small hill station in the KPK province of Pakistan. It is spread over an area of 1685 acres. It was established to save the alpine forest of the region and the wildlife in it as well.
Although the coniferous trees dominate the vegetation of the area but there are other plants as well. According to a survey, around 104 species of plants are found in the park. Due to the merciless cutting of trees in the region, some of the trees also face extinction. The purpose of the park was to save the trees as well.
The park is the home of 31 species of animals including the endangered leopard and black bear. Other animals found here are the Red Fox, Flying Squirrel, Masked civet, Rhesus Macaque (monkey) etc.
The Ayubia National Park lies in the route of migratory birds hence much to a bird watcher's delight; a large variety of birds can be seen here. Some of the endangered birds in the park are the Koklass Pheasant and the Kalij Pheasant.
The park is the home of the Golden eagle, Griffon Vulture, Honey buzzard, Hill pigeon, Kestrel, Peregrine falcon, Collared dove. Some snakes existing in the Himalayan region can also be seen here. An estimate of 100,000 tourists, visit the Ayubia National Park and its surrounding place