Pakistani cinema has observed many great actors and actresses who have impressed the cinematic reality of Lollywood and their own fans by their extraordinary acting aptitude, loving & adorable personalities and amazing on-screen chemistry.
Most of the time, we hear numerous gossips, and chitchats about actors & actresses and their loyalties toward their professional and personal lives, moreover it doesn't sound surprising to hear about an affair of a celebrity.
Being in love and getting married is no more a big deal for a star but it does count when a celebrity couple who ties knot and remains loyal with each other for the rest of their lives.
This article is based on some of the real life couples of Lollywood who fell in love during their film shootings, decided to get married and still continue to live a successful married life with each other, hence demonstrate the strength of true love.
Let's peep into an array of celebrity duos whose real-life romance still tugs at our heartstrings.
#1 Mohammad Ali & Zeba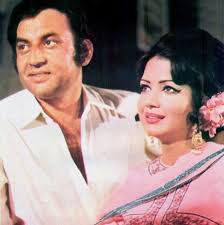 The wonderful couple of the industry, Zeba and Mohammad Ali makes a great example of 'made for each other'. Mohammad Ali was a moderate person and had a literary background. He was the most famous persona among his friends and equals and shared good friendly relationships with most of his female co-stars like Shamim Ara, and Deeba.
On the other hand, Zeba who is a full of beans personality found Mohammad Ali attention-grabbing in their very first meeting. According to Zeba, Mohammad Ali's integrity, goodness and generous heart drew her attention toward him. She expressed 'Ali never took advantages of being good-looking and famous among his female fans and colleagues.
Both the actor and actress felt attraction in each other which turned into love and then eventually resulted in their marriage on September 29, 1966. They have many movies together before and after their wedding such as Rivaj, Kaneez, Doraha ,Aag, and Waqt Ki Pukar.
The duo of Zeba and Mohammad Ali portrays royal sophistication, endless integrity, expressive vividness along with screen splendor and married blessings. Despite of various views existence, Mohammad Ali and Zeba appeared as a pair in 'Chiragh Jalta Raha' and exemplified that they were meant to rule the on-screen and off-screen lives together.
Mohammad Ali treated Zeba as a queen and loved her a lot. Zeba also showered her love for her husband. The duo shared an excellent married life with each other over four decades. Though the legendary actor Mohammad Ali passed away in 2006 but their love story still continues to live in their fans' hearts.
#2 Sabiha Khanum & Santosh Kumar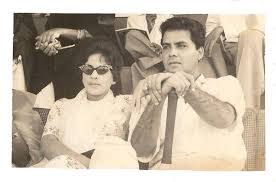 If Lollywood could put forward a couple of regal charm, everlasting integrity, meaningful brilliance and on-screen magnificence with wedded blessings, it would be the couple of Sabiha Khanum and Santosh Kumar.
The possessor of graciousness, good looks and well-mannered personality Santosh Kumar and the beauty queen of 50's Sabiha Khanum debuted as a pair in Beli. Then their next film as a pair Do Aanso marked the screen presence of the stars together.
Later their Ghulam, Qatil, Inteqam, Hamida, Sarfarosh, Wadah, Lakh, Hasrat, and many other made their on-screen chemistry stronger. Their duo is a one of the rare combinations that lit up Pakistani cinema.
Santosh and Sabiha fell in love with each other during the filming of their numerous films as a couple and tied knot during the shooting of Hasrat in 1958. They lived a happy married life till Santosh passed away on 11th June, 1982 which took light of Sabiha's beauty away.
The splendid couple of Santosh and Sabiha symbolize the purity, dignity, true love and down-to-earth elements of a successful professional life and a happy married life, stimulating an impression that was really classical.
Their true brilliance as actor and actress and amazing chemistry and endless relationship revealed in the ritually romantic excellence. Undoubtedly, Sabiha Khanum & Santosh Kumar is one of the remarkable couples of Lollywood.
#3 Darpan & Nayyar Sultana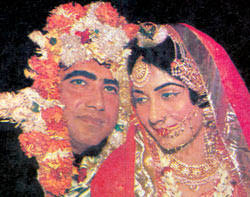 Darpan & Nayyar Sultana was the most graceful couple of Pakistani film industry. Darpan is the younger brother of legendary actor Santosh Kumar. He possessed big, hazel eyes, lovely smile, and gorgeous looks that had the ability to steal women's hearts.
Nayyar Sultana's simplicity, splendor, shyness and good attitude attracted Darpan and he fell in love with her. They worked together in many films. Saheli, Baji and Naela, and Tangeywala are some of their significant movies.
Though, it is interesting to know that they both did not make a successful couple on-screen but in real life they were successful and one of the most fascinating couples of the industry.
Their love story continued till Darpan departed this life in late '70s. Nayyar Sultana remained a talented character actress till 1980s and passed away in 1990.
#4 Afzal Khan (Rambo) & Sahiba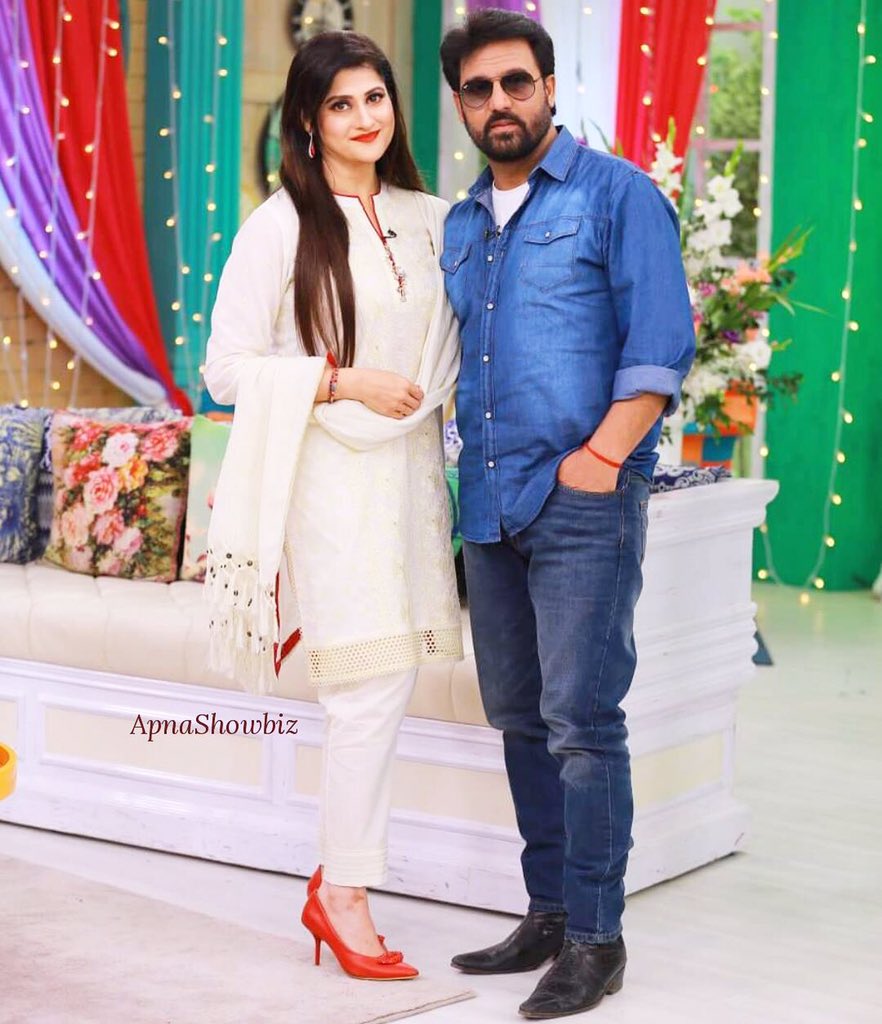 Sahiba and Afzal Khan are together for last fifteen year and live a happy married life.
Sahiba is a one of the stunning actresses of glamorous world of Pakistan film and television industries. Afzal Khan (famous as Rambo) is also a successful Pakistani film actor who rose to distinction and popularity by playing the character of gatekeeper named John Rambo in legendary comedy play 'Guest House'.
He fell in love with Sahiba in their very first meeting and proposed her during a film shooting. Sahiba did not take long in saying yes. However it was not easy for them to tie knot due to different cultural and financial conditions.
Their love story reminds us a typical romantic film where the parents of heroine do not let their daughter marry the hero until the hero proves him the right choice of their daughter. Sahiba is the daughter of Nissho Begum, a well-known actress of Pakistani film industry.
She perhaps thought that Afzal Khan was not serious with her daughter so she put conditions in front of him which was duly accepted by him. He proved himself and fulfilled all conditions to marry Sahiba. The couple eventually got married on 16th October, 1998 which still continues to mark their loyalty and love for each other.
#5 Arbaz Khan & Khusboo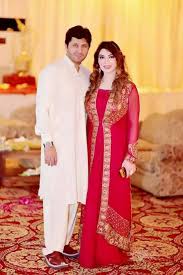 Arbaaz Khan and Khusboo worked in a few films together and fell in love. They tied knot in June 2004 and have a son now. It was not easy for Arbaz to marry Khusboo as his father Asif Khan (a well-known Pakistani film actor) was against their wedding because he was in the view that Khusboo is an open-minded girl and above of all, an actress, so she wouldn't be fit in their family environment.
But Arbaz and Khusboo together proved their loyalty for each other and pacified Asif Khan for their wedding. According to Arbaz, he finds himself a lucky person to get a wife like Khusboo. Khusboo's expressions are not different than her husband's. Thus they both are happy in their balanced married life and present a good couple of Lollywood.