Cholistan Desert is situated 30 km from Bahawalpur City. It is spread over an area of 16,000 square kilometers. Its history can be traced back to 1200 BC. The Hakra Valley in Cholistan has 300 sites of Indus Valley Civilization.
The Hakra River was the main source of life and signs of agriculture till 600 BC were found here. Most probably the river dried transforming the area into a desert. The locals of Cholistan are nomadic herders. They still live in huts made of mud and straw.
Cholistan is a land of forts. There are around 400 forts which actually guarded the routes of caravans. Some other forts are Derawar, Vingrot, Wilhar, Marcot and others. Every year, the Cholistan Jeep Rally is held in the Cholistan desert. Many adventurous drivers drive their four wheelers through the desert sands.
The end of the rally is marked by a folk Mela, spectacular fireworks wrestling competitions, Horse and Cattle Show and an exhibition of Cholistan Handicrafts. The Cholistan Desert Safari is a once in a lifetime opportunity. Many tour operators arrange for safaris through Cholistan Deserts. They are real fun.
Mounted on a camel you can have a tour of the ancient forts, nomadic villages, shrines of the saints and at night you can dance and sing along with the locals or rest by the camp fire under the starry sky. The best time to visit Cholistan is from March to October.
Forts in Cholistan Desert: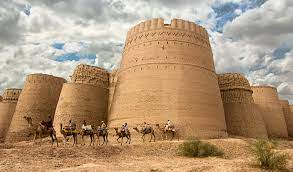 The Cholistan Desert is the home to around 400 forts. It is thus aptly named as the land of forts. The forts were built in rows of three each fort being 29 km apart from each other. The forts were actually watch towers for guarding the camel caravans. They were built from gypsum and mud and are now in a very poor condition. Some of these forts are said to be built in 1000 BC.
The Derawar Fort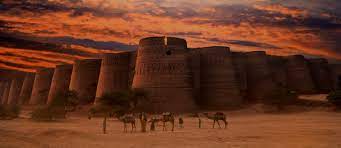 The Derawar fort can be best described as "A grand structure in the middle of nowhere". It is a masterpiece of human intelligence and skill. The actual Derawar Fort was built by a Hindu Raja and then completely rebuilt in 1733. Derawar fort is square shaped and has forty circular towers 10 on each side. These towers are 30 meters high and 1.5 km in circumference.
They can be seen miles away. They are decorated with geometric and floral patterns. The guards of the Amir of Bahawalpur guard this fort and permission has to be taken to enter this impressive place. Nearby is a mosque built in 1849 with white marble.
The ancestral graveyard of the Abassis the former rulers of Bahawalpur is situated close by. Some of the forts in Cholistan are Islamgarh, Dingarh, Mao, Marcot, Vingrot, Wilhar, Banwar and Phura.