Dunga Gali: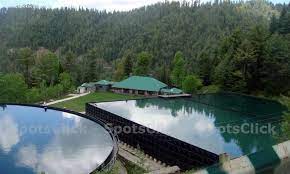 Dunga Gali is another hill station of the Abottabad district situated in KPK province of Pakistan. It is situated at a height of 2500 meters close to Nathia Gali another fascinating hill station. Like other hill stations of the area, Dunga Gali was also established by the British as a Sanatorium for its officers.
Few houses, post office, small bazaar and a hotel were there to fulfill the basic requirements of the residents. Dunga Gali now is a summer resort. It is situated on the slopes of Mukshpuri Hills. Besides its breath taking beauty and pine clad surroundings, it is popular among the tourists as a hiking trek.
From Dunga Gali you can walk for approximately an hour on the 4 km long Pipe Line trek. The tall trees and picturesque views of rivers and mountains make trekking enjoyable. The trek ends at Ayubia National Park. Ayubia National Park is a wild life park which houses many species of wild animals and birds apart from the flora found in the region.
Another option Dunga Gali offers is mountain climbing. You can climb the 2376 meters high Mukshpuri peak. The green slopes covered with daisies are a bit steep to climb and you can rest and have some refreshments on your way to the peak. Dunga Gali is an interesting place to be at, so do not miss it next time you go to the KPK Province.
Nathia Gali: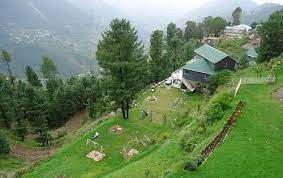 Nathia Gali is situated in the Hazaara district of KPK province of Pakistan. It is a hill station between Murree and Abottabad. Situated at an altitude of 2500meters, it is a wonderful place to spend your summers. The hills are mostly covered with pine trees.
Walnut, oak and maple are other trees found here. The altitude along with the vegetation keeps the climate of the region cool and pleasant. Like all other Galis, Nathia Gali was established by the British and still has strong colonial influence.
A church made of wood against the backdrop of pine covered trees and flower bedecked grounds looks like a picture from a fairy tale. The area is the natural habitat of monkeys and leopards and a variety of birds can also be seen here.
For the holiday makers, hiking and trekking are the main activities. Two mountain peaks Miran jani and Mukshpuri are visible from Nathia Gali. It takes three hours to reach Miran jani on foot. The path is easy and the beautiful surroundings make it all the more charming. From Miran jani you can get a fantastic view of the fabulous surrounding valleys of Kashmir.
There are many resorts and hotels here which provide modern facilities at a reasonable rate.
Thandiani: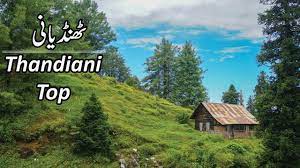 Located at a height of 2961meters, it is the coolest of all hill stations. Thandiani in local language means "cool". You will find snow on the ground with the sun beaming in the sky. Thandiani is located on the foothills of Himalayas and is 31 km away from Abottabad city. Scenic beauty, peace and tranquility and of course cold crisp air is all that it offers to the tourist.
Thandiani was originally established by the British as a Sanatorium for its officers stationed at Abottabad. The place consisted of a bazaar and a few houses used during summers only. Winters are pretty harsh as the temperature falls below zero and there are strong chances of being snowed in. Now it's a tourist's resort. From here you can have a spectacular view of the Pir Penal Range. At a distance of two kilometers from Thandiani is the glade of Hule Ka Danna another place of mesmerizing beauty.
The wild life of the region comprises of leopards, monkeys, pheasants and flying squirrels found in the thickly forested mountains.
So next summer come and chill out at Thandiani, the "cool" place in Pakistan.