Upper Kachura Lake has a rare beauty on earth and keeps its viewers spellbound. It is full of wild apricot trees and rich floral gardens with preserved natural beauty is at its top.
Many activities like hiking, mountaineering, fishing and enjoying azure water can be done here. However, it is not explored by many tourists due to lack of infrastructure and less attention on its promotion.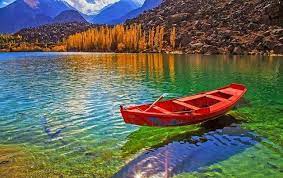 The Upper Kachura Lake has beautiful clear water of a depth of about 70 meters. In summer season, the temperature around this place is around 15 degrees Celsius but in winters the place becomes solid with piled up and frozen snow.
Indus river is located close this lake at a relatively lower level then this lake. All this is filled with sand therefore the lake cannot have any inflow from of the water streams.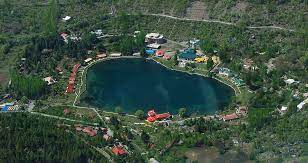 Lower Kachura Lake is also commonly known as Shangrila Lake is located at a 20 minutes' drive from the town of Skardu. There is a tourist resort called Shangrila Resort famous for attracting domestic and international visitors' since1983.
This resort was established by Late Brig. Muhammad Aslam Khan who was the first commander of Pakistani Army for Northern Scouts. Shangrila was named after James Hilton's famous book 'Lost Horizons'. The story is about a plane crash near a river bed in the year 1920.
The lost survivors found help from a few Buddhist monks from a temple nearby. These monks looked very young though they claimed to be over hundred years old. When asked the reason for their young looks, they took them to an enchanted place with lots of fruit trees and colorful flowers.
Because of its captivating view and out of this world looks, this place was called Shangri-la which is a Tibetan word that means 'Heaven on Earth'. After visiting these lakes no one can deny the fact it really deserves this name.
There is also a unique restaurant on the resort for the tourists. People also visit the great Deosai Plains from here and enjoy a lifetime experience.