Lux Style Awards 2018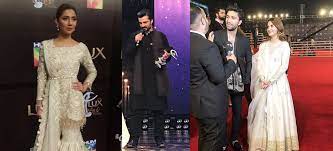 The Lux Style Awards are the oldest, most prominent and the biggest awards in the history of the Film Industry of Pakistan. In the new era, it is also known as the "OSCAR OF PAKISTAN".
These awards are awarded to those who excel in media. About 30 awards are presented annually in different categories. Nominees are selected on the bases of their performances in the previous year.
The award winners are selected by the judges as well as public. The first award ceremony of Lux Style Awards was held in 2002 at the Expo Center Karachi.
Since then every year these awards are taking place in different cities of Pakistan except in 2004 it was held at Dubai (UAE) and in 2007 at Kuala lumpur (Malaysia). These awards are presented by Unilever Pakistan. Since 2002 it is expanded to a three days event.
The 17th Lux Style Awards took place on 21st February, 2018 in Lahore. Nominations for 18 categories are announced so far from those 12 categories are open for public voting.
Some categories which are to be selected by judges for some specialized reasons are best emerging talent in music, best music video director, best TV and Film writers and directors. Fashion categories are so far not announced but it is expected to be announced in few days. All categories are short listed to five candidates.
HUM Awards 2018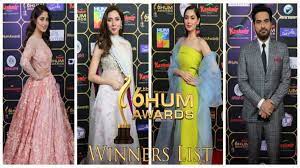 Hum Awards are one of the Pakistani awards which are awarded by the hum network for distinctions in film, music and fashion. A golden statue which is channel's logo along with an Urdu word Hum, is awarded to the winner. These awards are officially called Hum Merit Awards.
These awards are presented by the efforts of the CEO of Hum Channel Sultana Siddique. The first hum awards were presented on 12th February, 2013 at Karachi Expo Center. Hum Awards are given only to the dramas of Hum Channel only, but music and fashion nominees are selected from all over Pakistan.
Total 62 awards were given on first award ceremony. All the nominees are awarded on two bases, the decision of jury and the will of public expressed through voting. Since then every year award ceremony has been held at different cities of Pakistan except in 2015 when it was held at Dubai World Trade Center, Dubai.
On 29th April 2017, 5th Hum Awards were presented. Hum Network is considered as one of the pioneers of fashion, music and entertainment industry. The venue for 5th hum award was chosen to be Lahore.
These awards were presented by Pel, powered by Q-Mobile and presented by Kashmir Cooking Oil and Banaspati Ghee. The Hum Awards Ceremony was on aired on Hum TV on 22nd July, 2017.
About 25 award categories were announced out of which 7 categories were viewer choice award. This year the award ceremony was hosted by Hareem Farooq, Mikaal Zulfiqar and Nadia Khan while the comedy segment hosting was done by Ahmed Ali Butt and Yasir Hussain. The award video spans over 3 hours and 21 minutes.
ARY Film Awards 2018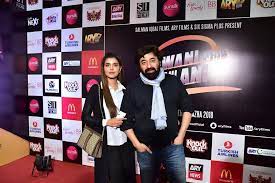 ARY Film Awards or AFA's is a Pakistani awarding ceremony which takes place annually for honoring the achievements in film industry. ARY Trophy commonly known as ARY Award of Merit is gold plated made on black metal base with a gold lady standing.
The ARY Trophy (AFA's Statue) is named after co-founder Abdur Razzak Yaqoob (acronym as ARY) so, ARY Channel which laid down the foundation of ARY Film Award is shortened to AFA's. The first ARY Awards were presented in 2014 at Golf Club Karachi. These awards take place because of the efforts of ARY CEO Salman Iqbal.
These awards are given to acknowledge the works done by artists, technical staff's achievements and films of Pakistan. In the first award ceremony 33 awards were presented.
The nominees are categorized on three bases:
1. Viewer Choice
2. Jury Choice
3. Technical Awards
Only two ceremonies up till now have been featured; the first one in 2014 in Karachi and the second in 2016 Dubai, UAE. These awards are presented by ARY Digital Network and Entertainment channels.
These awards are presented to all those who have done fabulous work all over the country. ARY up to now has released 35 films including 11 Urdu, 6 Punjabi, 17 Pashto films which include WAAR, MAIN HON SHAHID AFRIDI, JOSH and many more.
These awards are sponsored by NOKIA, LOREAL and ZONG. The 2014 award ceremony was a huge blast in industry of Pakistan as it introduced a new era after the closing of the Pakistan oldest award ceremony THE NIGAR AWARDS.