Virsa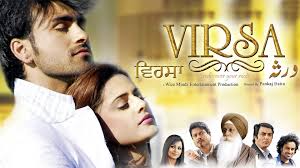 Cast:
Gulshan Grover
Noman Ijaz
Kanwaljeet Singh
Mehreen Raheel
Aarya Babbar
Aman Dahliwal
Director: Pankaj Batra
Producer: Vikram Khakhar, Jyotish Chugani and Aman Mahajan
Music: Jawad Ahmed
Box Office: Rs 11 crore
Virsa was a Punjabi language film and was a joint venture between India and Pakistan as the entire crew and cast comprised of professionals from both sides. Virsa means heritage and the movie seemed to convey the message on numerous occasions that no matter where people go, they must not forget their roots and heritage.
As the story unfolds, we find two friends Nawaz Ali (Noman Ijaz) and Ranvir Singh Grewal (Kanwaljeet Singh) migrated to Australia twenty years ago. Ranvir Singh is a successful businessman who runs a restaurant and has adopted the Western ways and culture whereas Nawaz Ali who is that successful has not forgotten his roots and culture.
Both men pass on their values to their children; Nawaz Ali's son (Aman Dahliwal) is a sensible young man with a balanced personality who has a soft corner for Meet daughter of Ranvir Singh. Meanwhile Meet is in relationship with an Australian.
Ranvir Singh's son Yuvraj (Aarya Babber) who is heavily into drugs booze and women one day meets Mahi (Mehreen Raheel) a student from India who to respects and follows her traditions and heritage. Mahi tries to reform Yuvraj; will she be successful in doing so, whether Nawaz Ali was right to stick to his roots or Ranvir Singh's decision to blend in was correct remains to be seen.
The movie has its share of twists and turns and is an interesting watch. The real strength of Virsa is its music, especially the song sung by RahetFateh Ali Mein TainuSumjhawan Ki.
Wohti Lay Kay Jani Hae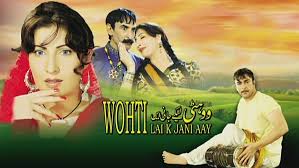 Cast
Shaan Shahid
Saima
Mustafa Qureshi
Azhar Rangeela
Director: Syed Noor
Producer: Saima
Music: M. Arshad
Wohti Lae Kay Jani Hai was a Punjabi film directed by veteran film director Syed Noor. It was a romantic comedy featuring Shaan Shahid in a comic role. The director claimed that the movie would serve as Oxygen to the Pakistani film industry and will draw the audiences back to cinema which turned out to be true as it was a big hit of the year 2010.
Channa Sachi Muchi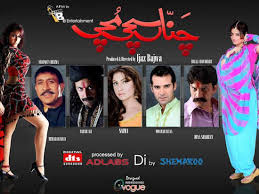 Cast:
Saima
Babar Ali
Moamar Rana
Hina Shaheen
Director: Ijaz Bajwa
Producer: Ijaz Bajwa
Music: Zulfiqar Ali
Chana Sachi Muchi is set in the partition era and shows the romance between a Hindu girl Pooja (Saima) and Muslim boy (Bao). Pooja is engaged to Sooriya (Babar Ali) while Bao's fiancé is Lajo (Hina Shaheen); the rest is predictable. Shot at original locations, it was an entertaining movie with good music.