Bol
Cast
Humaima Malick
Manzar Sehbai
Iman Ali
Mahira Khan
Atif Aslam
Director: Shoaib Mansor
Producer: Shoman Productions
Bol was the most powerful movie of 2011; directed by Shoaib Mansoor it revealed the harsh realities of life and the struggles of a middle class family where women are considered the lesser being. It is the story of Hakim Sahib (Manzar Sehbai) who desires a son and instead has fathered seven daughter with Zainab (Humaima Malick) being the eldest.
The entire film is in flashback and narrated by Zainab and deals with social issues such as women's education, family planning and the taboo associated with transgenderism sensitively. Bol won critical acclaim internationally and is one of the masterpieces of Pakistani cinema.
Bhai Log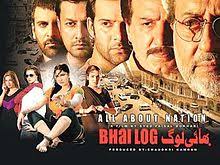 Cast
Nadeem Baig
Javed Sheikh
Shafqat Cheema
Shamoon Abbasi
Saima
Meera
Noor
Director: Ch. Ijaz Kamran
Producer: Syed Faisal Bukhari
The movie Bhai Log was an action thriller based on the fight and bloodshed between warring mobs in Karachi. Israr David (Shafqat Cheema) and his henchmen are Jewish agents who have come to Karachi with the sole intention of creating chaos and turning the already troubled city into a battleground.
Israr chooses two rival mob heads Abba Bhai (Nadeem Bhai) and Aslam Bhai (Javed Sheikh) and tries to create more bad blood between them. Inspector Nagra (Shamoon Abassi) is a law enforcement officer and towards the end of the film he and all Bhai Logs (bhai key admi) come together to rid the city of this menace. The actresses are just to add glamour and have no meaningful role.
Love Mein Ghum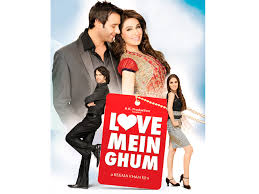 Cast
Nadeem Baig
Javed Sheikh
Reema Khan
Moamar Rana
Jia Ali
Nabeel Khan
Director: Reema Khan
Producer: Reema Khan
Love Mein Ghum the directorial debut of Reema Khan was adapted from the novel Veronica Decides to Die by Paulo Coehlo. Reema plays the leading lady Maria Joseph alias Zindagi who is besotted by Wilson (Nabeel Khan) a boy who studies with her but Wilson is devoted to his girlfriend played by Araida (an Azerbaijan actress). Wilson insults Zindagi on the campus so much so that she tries to commit suicide.
In the parallel story, Ali (Moammar Rana) too tries to take his own life because his father Mr. Haroon (Javed Sheikh) throws him out of the house as he thinks that Ali tried to get fresh with his sexy step mom (Jia Ali). The two are saved by Dr. Kanwal (Nadeem Baig) and they get new perspective of love and life.
Khamosh Raho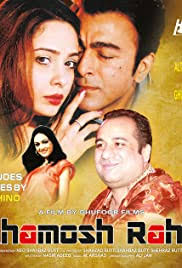 Cast
Shaan
Juggan Kazmi
Sheraz Ghafur
Maryam Khan
Ghulam Mohiuddin
Director: Altaf Hussain
Producer: Ghafur Butt
The Juggan Kazim and Shan Shahid starrer Khamosh Raho was a female oriented family drama. The movie featured two new actors Sheraz Ghafur son of the producer and Maryam Khan besides veteran actor Ghulam Mohyuddin and others. Apart from great music, there is nothing to say about Khamosh Raho…………………just Khamoshi.