Waar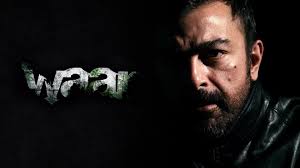 Cast
Shaan Shahid
Meesha Shafi
Ali Azmat
Shamoon Abbasi
Ayesha Khan
Hamza Abbasi
Director: Bilal Lashari
Producer: Hassan Waqas Raana
Waar was the most anticipated movie of 2013 and was appreciated by the masses although 80% of it was in English language. The movie is based on the war of terrorism in Pakistan and has been inspired by real life events such as the attack on Lahore Police Academy in 2009.
Although there were only a couple of seasoned actors in the movie, the acting throughout the movie was outstanding; Shan and Shamoon Abbasi were by far the best. Waar definitely marks the revival of Pakistan film industry.
Main Hoon Shahid Afridi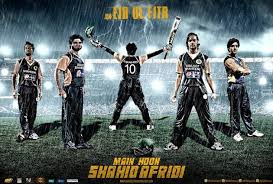 Cast
Humayun Saeed
Nadeem Baig
Mahnoor Baloch
Noman Habib
Javed Sheikh
Hamza Ali Abbasi
Combine new plot, great direction, good music and excellent performance and you will get Main Hoon Shahid Afridi an outstanding movie of 2013. The hero is a teenager who idolizes Shahid Afridi and wants to become like him. It is the story of determination and portrays the message that if you are deeply committed to your goal then you can overcome all obstacles.
Josh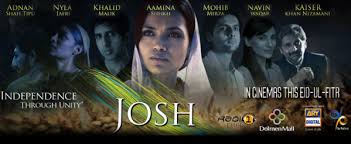 Cast
Amina Sheikh
Mohib Mirza
Nyla Jafri
Director: Iram Parveen Bilal
Producer: Iram Parveen Bilal, Saad bin Mujeeb and Kelly Thomas
Josh is another Pakistani movie that depicted the socio-political structure of Karachi city. Lately Karachi is being used to represent the socio-political problems in Pakistan. In this film the director Iram Parveen has raised the subject of the suppression of poor people by feudal and landlords and how anyone (Nusrat Bi) who raises their voice against the injustice is silenced.
Fatima (Amina Sheikh) the heroine of the story puzzled by the sudden demise of her nanny Nusrat Bi (Nyla Jafri) tries to seek answers and uncovers helplessness, poverty and deceit.
Seedlings/Lamha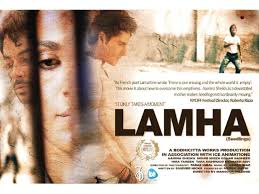 Cast
Amina Sheikh
Mohib Mirza
Gohar Rasheed
Director: Mansur Mujahid
Producer: Meher Jafri and Summer Nicks
In the film Seedlings/Lamha we see a couple deal with the death of their only child. The real life husband wife duo Mohib Mirza and Amina Sheikh play the lead roles of Raza and Maliha the artist couple whose world is shattered when their son dies in an accident caused by rickshaw driver Anil (Gohar Rasheed).
This tragedy tears the couple apart but the rickshaw driver has his demons chasing him as well. Seedlings won two awards at the New Year International Film Festival that of Best Actress and the Audience Award for the Best Film. The international critics described Seedlings as a "new wave in Pakistani cinema".
Siyaah
Cast
Hareem Farooq
Jabbar Naeem
Mahnoor Usman
Director: Azfar Jafri
Producer: Imran Raza Kazmi
One of the notable independent movies of 2013 was Siyaah; a horror flick written by Osman Khalid Butt and directed by Azfar Jafri. Although the promos showed black magic to be the theme of the movie but it revolved more along the lines of exorcism.
A couple Bilal and Zara played by Jabbar Naeem and Hareem Farooq moves to a big house and after the miscarriage of their child, decide to adopt one. The child (Mahnoor Usman) unfortunately is not your normal regular child and at this point evil enters the house and the lives of the couple. It is a low budget movie and is quite good with some hair raising skin crawling scenes.
Ishq Khuda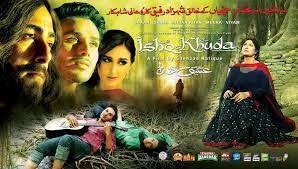 Cast
Shaan
Saima
Ahsan Khan
Meera
Wiam Dhamni
Director: Shehzad Rafique
Producer: Shafquat Chaudry
Ishq Khuda is a Pakistani feature film sans the usual Lollywood masala. It is a movie about divine love; its purity and its impact on the lives of the people. It subtly delivers a social message that divine love promotes brotherhood kindness and peace. It shows the difference between the preaching of a mullah and a dervaish; a mullah instills the fear of God in people while a dervaish teaches people to love humanity as God loves those the most of love His creation.
The movie has some big names from the film industry such as Shan who plays Rulia a villainous character who later transforms into a dervaish, Saima as his love interest Malka, Ahsan Khan and Meera. The Dubai based actress and singer Wiam Dhamni has also performed an important role of Kulsoom in the movie.
Chambeli

Cast
Ghulam Mohiuddin
Ali Tahir
Mehreen Syed
Director: Ismail Jilani
Producer: Abdullah Kadwani and Shahzad Nawaz
Chambeli was a noteworthy Pakistani movie based on politics. The movie portrays the political situation in a fictitious country Mulk-e-Khudadad but you easily connect it with Pakistan and its problems. Fed up by the rampant corruption, victimization and exploitation of the weak, a group of youth forms their own political party Chambeli Tehreek.
Although the initial response from the masses is not positive but gradually it gains strength and emerges as a clear victor in the elections. The movie was appreciated by all and was termed as a ray of hope not only for the Pakistani cinema but also for the youth of Pakistan.
Zinda Bhaag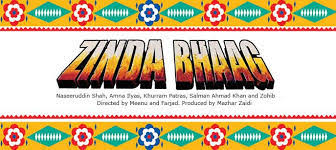 Cast
Naseeruddin Shah
Khurram Patras
Zohaib
Salman Ahmed Khan
Amna Illyas
Director: Meenu Gaur and Farjad Nabi
Producer: Mazhar Zaidi
Zinda Bhaag was a masterpiece released in 2013. It was a story of three lower middle class boys (Khurram Patras, Zohaib and Salman Ahmed Khan) whose ultimate dream is to somehow migrate from Pakistan.
Zinda Bhagg portrays the dark and desperate circumstances that lead the youth to endanger their lives and take huge risks to go abroad whether to Dubai, USA or Europe, anywhere but Pakistan. The movie was also sent to the 86th Academy Awards but was not nominated.