The 1990s, decade was a period of ups and downs for the Pakistani film industry. The industry had suffered great loss as the Islamization policy along with the introduction of VCR and influx of Indian movies in the market restricted the growth of the industry.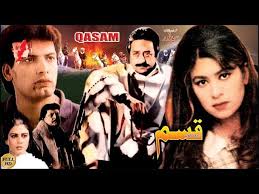 During this period, directors like Syed Noor continued to struggle to produce movies that kept the Pakistani film industry breathing. Syed Noor's ventures include Qasam (1993) the story of a boy affected by his parent's separation.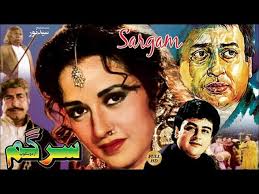 Jeeva (1995); introducing Babar Ali and Resham, Jeeva was about revenge. In 1995, Syed Noor also produced the musical romantic movie Sargam starring ZebaBakhtiar and Adnan Sami. Syed Noor went on to give hit movies in 1996 like Hawaien (Reema and Saud) which was about student politics, Ghunghat (Resham, Shan and Andleeb) a family drama and the multi-starrer ChorMachayeShor a romantic comedy.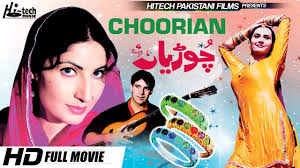 In 1997, Syed Noor gave yet another popular family drama DewaneTerayPiyar Kay (Nadeem, introducing MoamarRana and Jia Ali) and Sangam (Shan, Resham and Sana) both were entertaining and interesting movies. Choorian (MoamarRana, Saima and Nargis) the Punjabi film of 1998 was a tremendous success as was the 1999 Daku Rani starring Shan, Saima and MoamarRana.
Besides Syed Noor, actor turned director Javed Sheikh also made some memorable films in the 1990s. Mushkil (1995) in which he played the lead role along with Neeli was about child labor. Chief Sahib (1996) was an interesting movie and was a major hit largely due to its songs. Yes Boss (1997) was another commercial success from Javed Sheikh featuring Resham, Meera, Saleem Sheikh and Javed Sheikh.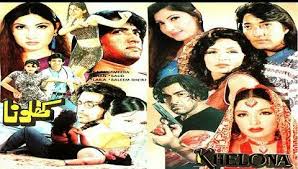 Sangeeta the actress turned director produced Khilona in 1996; the movie was a desi version of Fatal Attraction and Sleeping with the Enemy and went down well with the masses. In 1997, she directed Dream Girl a female oriented film with Meera, Laila and Saira Khan in the cast; however Sangeeta's 1990's masterpiece as a director remains Nikah; an intense family drama with Shan and Reema in the lead role.
Sajjad Gul the media mogul and owner of Evernew Studios also contributed towards the revival of Pakistani cinema with movies like Jo Darr Giya Who Mar Giya (1995) with Nadeem, AtiqaOdho, Javed Sheikh, Reema and Baber Ali in the cast.
Shan made his debut as an actor along with Reema in Bulandi in 1991 which turned out to be a huge commercial success. After establishing himself as an actor, Shaan directed his dream project Guns and Roses in 1999. Samina Peerzada another actress turned director made Inteha in 1998. Inteha raised the subject of domestic violence and was a very successful movie; it also launched the career of Humayun Saeed and Zeeshan Sikander.