Islamabad is the Federal Capital of Pakistan. It is situated in the North of the country on Potowar Plateau. Islamabad is a well-planned city established to replace Karachi as the state capital.
Established against the backdrop of the tree clad Margalla Hills, it is truly a beautiful city with serene sites. As all the official residence of the Prime Minister and The President are located here, it is the cleanest city of Pakistan.
When visiting Islamabad do go to the following places:
Margalla Hills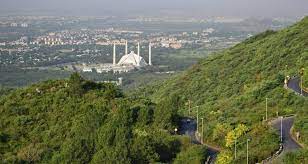 Margalla Hills are a range of small hills spread over an area of 12,605 hectares. The hills are extremely pretty with a wide variety of flora and fauna. Hiking and trekking are the main activities. Some private clubs also provide facilities for Hand gliding and Para gliding. The best spot of Margalla Hills is Daman e Koh. It is the central point of Margalla Hills and gives a fantastic view of Islamabad. It is a well-developed picnic point.
Faisal Mosque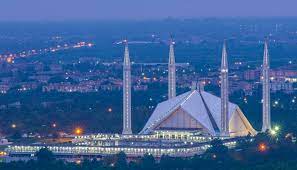 The Faisal Mosque is the largest mosque of Pakistan and the 6th largest in the world. The construction of the mosque was completed in 1986. Faisal Mosque covers an area of 5,000 sq. meters. The interior hall is decorated with chandeliers and the walls are adorned with mosaic and calligraphy done by Sadequain the great Pakistani artist.
Rawal Lake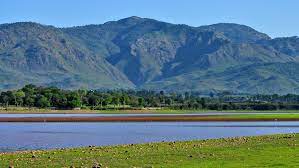 Rawal Lake is the manmade lake of the Rawal Dam. It has been developed as a tourist resort. Boating can be done here. It is also a bird watcher's paradise. It is a very beautiful place with many things to entertain you.
There are several places worth visiting in Islamabad like Pir Sohawa, The Zoo, Margalla Hills National Park, Japanese Garden, Rose and Jasmine Garden and The Pakistan Monument.