The concept of tour operators is relatively new in Pakistan and is gradually gaining popularity. Tour operators offer different travel packages to people interested in travelling for leisure and/ or adventure. The package comprises of transportation, accommodation, meals, sightseeing and other activities. Tour operators create packages based on the demands and interest of holiday goers. They offer affordable packages to families and enable them to visit multiple places within budget. As I mentioned earlier, it is a relatively new field in Pakistan, reliability is therefore a major consideration when choosing a tour operator. Following is a list of reliable tour operators in Pakistan that offer you great travel packages whether travelling alone, with friends or with family.
also read
Mammoth Tours
Mammoth Tours is one of the oldest and most reliable tour operators registered in Pakistan. It offers different travel packages and includes some of the exotic and fascinating destinations across the country. Mammoth Tours arranges travel packages from Karachi, Lahore and Islamabad. The cost varies for travelers from Karachi and Lahore depending upon the mode of transportation chosen. From Islamabad onwards rates are the same. Travelers from Karachi and Lahore can either opt for travelling with Mammoth till Islamabad or can make their own arrangements.

Travel Packages
Duration of travel packages varies, it is 7 days from Lahore/Islamabad and 11 days from Karachi. It also organizes short tours for families and individuals who want to make the most of long weekends. Although travelling is at its peak during summers, Mammoth arranges winter tours as well.
Destinations Covered
Pakistan is home to amazing places, its geographical diversity makes it even more alluring and fascinating to explore. Mammoth covers almost all of the enchanting areas in Pakistan. From base camps to the mighty mountains, glaciers, lakes, waterfalls and in the north to the pristine beaches in Baluchistan. You can also book a tour during winters for Quetta and Ziarat or Malam Jabba if you want to see snowfall. Weekend trips to coastal areas in Baluchistan Kund Malir and Ormara Beach are also arranged by Mammoth.
Services
To make your travel hassle free, Mammoth arranges everything from transportation to your itinerary. Although it rolls out travel packages based on the season and popularity of places, Mammoth also customizes tours. You can plan it your way by choosing dates and places you would like to visit and quote your budget. Mammoth will try to accommodate your plans in the best possible way. Generally, students, families and groups opt for customized packages; it also offers honeymoon packages. The hotels are quite decent and provide all amenities. Generally, four to five people share a room but a separate room can also be arranged at additional charge. Mammoth arranges breakfast and dinner but travelers have to arrange their own lunch. Travelers also have to pay for entrance fee if they want to explore historical places such as Baltit Fort. Mammoth arranges jeep rides to glaciers, hiking trips and horse rides. It provides experienced guides who are polite and friendly and go out of their way to make things comfortable for the tourists. A barbecue and bonfire marks the end of the trip.
Safety
Mammoth is very particular about the safety of its travelers and makes sure no untoward incident happens. It ensures that all travel plans are followed and the travelers reach their destinations safely. In case of natural disasters like landslides or flash floods, travel plans may change. Mammoth also provides support in case travelers get stuck due to landslide or rains. But it charges the travelers if stay is extended for more than a day.
My Adventure.pk
My Adventure.pk is a registered and reliable tour operator in Pakistan. It offers different tour packages covering different destinations and budgets.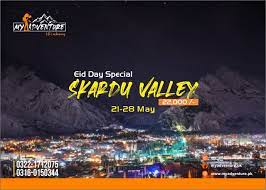 Packages
My Adventure has a variety of tour packages for tourists. The company also specializes in customizing tour packages for students, groups, families and friends. It also offers romantic honeymoon packages for newly wedded couples. My Adventure also arranges ladies only tours for women who want to explore the scenic beauty of Pakistan on their own. My Adventure arranges tours throughout the year but its summer packages are more popular and fun-filled.
Destinations Covered
My Adventure covers almost all destinations in Pakistan but is more famous for its tour packages covering northern areas. It will take you to historical places like Baltit Fort and Ganish a small village with mosques that date back to 300 to 400 years. Its winter tour packages cover Chitral and areas where it snows; main activity of winter tours is skiing. My Adventure not only takes its tourists to well-known places but also includes lesser known scenic places in its itinerary
Services and Safety
The reasonably priced package includes transportation, pick-up from hotel, hotel accommodation, meals (breakfast and dinner) and activities. Tourists can enjoy trekking, boat rides and horse rides; it also organizes fun-filled trekking groups. There is a barbecue and bonfire at the end of the trip. Each group is assigned efficient and experienced guides who ensure each member enjoys the trip. My Adventure.pk takes measures for the safety and security of its tourist.
Hunza Explorers
Hunza Explorers is a registered tour operator based in Hunza Valley with headquarter in Islamabad. It also has an office in Ho Chi Minh City Vietnam for international travelers who want to explore the mesmerizing valley of Hunza and surrounding areas.
Packages and Services
Hunza Explorers offers high end luxurious tours to local as well as international tourists. You can either opt for a pre-planned package offered by the company or ask them to make one for you as per your requirements. The duration of the trips varies and the company arranges trips for two people to large groups. Hunza Explorers works with a network of upscale accommodations and you can expect luxurious amenities at the various resorts and hotels. In the wilderness, Hunza Explorers offer accommodation in VIP safari lodges and camps. Hunza Explorers is also very particular about the meals served to its tourists. The guides who escort the tourists are extremely professional and well-versed in the history and geography of the areas. They go out of their way to make the tourists' stay comfortable.
Destinations and Tours
Hunza Explorers arranges different types of tours such as sightseeing tours, adventure tours like Gilgit Baltistan Tour and festival tours. Jeep Safari like Deosai Plains Tours, Hunza-Khunjarab Jeep Safari and North Pakistan Jeep Safari are also arranged by Hunza Explorers. The company also specializes in seasonal tours such as autumn tours, spring tours and summer tours. To make the trips memorable, Hunza Explorers offers activities such as mountain biking, trekking, mountaineering, cultural tours and historical tours. You can explore the scenic beauty of the place, the culture of the natives and history of the region with the various tours Hunza Explorers offer.
Safety
Safety is of prime importance for Hunza Explorers especially as they deal with foreign tourists.
Conclusion
Pakistan is a land of exceptional beauty and a great place for adventure seeking tourists as well as those who want to relax in the lap of nature. Reliable tour operators in Pakistan are doing an excellent job in promoting the country and increasing both local and international tourism.