Cast
Mahira Khan
Humayun Saeed
Armeena Rana Khan
Zeba Bakhtiar
Javed Sheikh
Junaid Khan
Adeel Hussain
Azra Manzoor
Director: Momina Durraid
Producer: Momina Duraid
Story: Farhat Ishtiaq
Screenplay: Farhat Ishtiaq
Editing: Tanveer
Music: Shiraz Uppal, Waqar Ali, Sahir Ali Bagga
Release Date: 18th July, 2015
Box Office: Rs. 20.26 crore (domestic), Rs 40 Crore international
Bin Roye the much awaited and the much hyped movie hit the cinemas on Eid day in Pakistan and internationally and has been doing roaring business since then.
Dubbed as an emotional roller coaster ride and a pure family drama Bin Roye has been well-received by the public both in Pakistan and worldwide.
Bin Roye looks more like a paperback romance novel with a desi touch; teenaged Saba (Mahira Khan) is in love with her cousin Irtiza (Humayun Saeed) who is pushing thirty. The two are overly friendly but somehow Irtiza fails to figure out the sentiments and love behind Saba's friendliness.
Next we know Irtiza is off to USA where he meets Saman another cousin, falls in love with her and marries her. As fate would have it Saman is Saba's elder sister who was adopted by her uncle.
This leaves our heroine emotionally traumatized and she even wishes her sister was dead which eventually does happen. In the second half of Bin Roye we see her dealing with guilt and remorse but somehow the movie has a happy ending.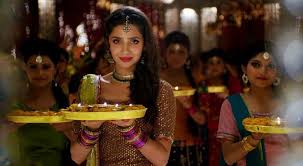 Bin Roye has all the ingredients of a blockbuster (sans the item song); Saba's family is filthy rich and lives in a big house. It is one big happy family where people dress to the nines all the time. There are catchy songs, colorful dances and amazing wardrobe and jewelry.
The focus is much on Mahira Khan and it seems more like a Mahira Khan movie. Saman (Armena Khan) is good but not convincing and Humyuan Saeed is his usual self; the lover boy. Dadi (Azra Manzoor) has certainly done justice to her role while Zeba Bakhtiar and Javed Sheikh are pretty faces in the movie; their talents were wasted.
Sets are impressive and cinematography crisp; music is just wonderful and big names like Rahet Fateh Ali, Abida Parveen and Zeb Bungash have lent their voice to catchy tunes.
Some of the scenes seemed abrupt and some downright ridiculous I mean who wears a red and gold sari with gold khusas to the beach in USA. Bin Roye is a good effort from the director Momina Durraid; she has certainly given attention to all aspects of the movie.