Kaghan valley is one of the most beautiful valleys of Pakistan and is an ideal candidate for 4-8 days of green trekking. While Saif ul Muluk is the most famous of all lakes it has, there are others which are far more beautiful and worth attempting.
Below is the description of four major lakes in Kaghan Valley:
1. Saif-ul-Muluk Lake

Situated at a height of 3500 meters above sea level north of Naran is the legendary lake Saif ul Muluk. Trip to Kaghan is incomplete without a visit to this lake. It is extremely beautiful. Its water has a greenish hue and reflects the tall peak of Malika Parbat.
Boating is permitted on the lake. Another reason for its popularity is its easy accessibility. You can go there by jeep from Naran in under an hour or on foot in 4-6 hours.
2. Aansoo Lake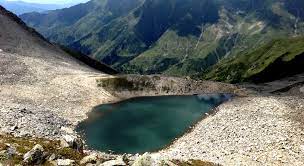 Aansoo Lake has been so named as it is tear shaped. In local language, Aansoo means tear drop. It is a relatively small lake. Its trek is more interesting than the lake itself.
It can be reached on foot from Lake Saif ul Muluk after a 5-6 hour walk through a steep ascend and a large glacier. It can also be reached by other routes and lies at an elevation of 4000m.
3. Lake Lulusar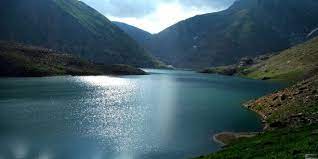 Lulusar is nearly 3 km long and is the largest natural lake of the Hazaara District. It is also the main source of the River Kunhar. Surrounded by tall snow covered mountains and with a bed of beautiful flowers around it, its beauty is spellbinding. Lulusar is around 60 km from Naran and a jeep drive takes 5 hours.
4. Lake Dudiptsar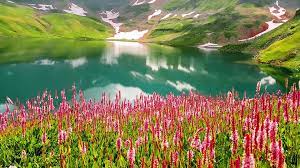 Dudiptsar is another lake of unmatched beauty in the Kaghan Valley. Nestled among snow covered mountains, its clear water reflects the snowy peaks hence the name "dudi".
Dudi means white in the local language and "sar" means lake. It can be reached by jeep from Naran after a long bumpy ride or by foot after a difficult hike. Besides scenic beauty, trout fishing is also an attraction.