The following Persian Couplet best describes Multan:
With four rare things Multan abounds
Heat, dust, saints and burial grounds.
Multan is also known as "Medina tul Auliya" or the city of saints. Sufism was introduced in the Sub Continent through the saints of Multan. The saints lived and preached here and chose Multan as their final abode. Even today thousands of devotees visit these shrines.
1. Mausoleum of Hazrat Bahauddin Zakariya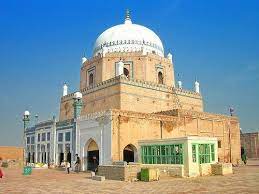 The mausoleum of Hazrat Baha ud Din Zakriya the reverend saint has a distinctive style of architecture. The 51 feet base is a square which is followed by an octagonal and then a semicircular dome. It was rebuilt in 1848 by the devotees.
2. Mausoleum of Shah Rukn-e-Alam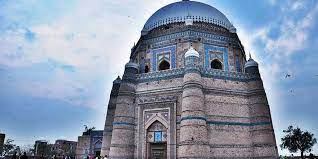 The mausoleum of Shah Rukn i Alam is a landmark of Multan. It stands 100 feet above the ground and its domes are visible from a distance. It is the 2nd largest mausoleum in the world and is the recipient of Aga Khan Award of best Muslim Architecture. It is built with red bricks and adorned with blue and white tiles, calligraphy and colorful floral and geometric pattern.
3. Mausoleum of Yusuf Shah Gardezi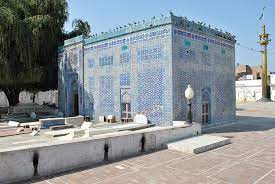 Yusuf Shah Gardezi came from Afghanistan in 1060 AD. His tomb is rectangular in shape and has no domes and is tastefully decorated with blue glazed tiles, a trend of that time. The interior has floral motifs on it.
4. Mausoleum of Shams Tabrez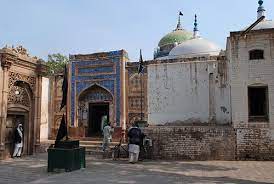 The mausoleum of Shams Tabrez is situated on the old dry bed of River Ravi near the Aam Khas Garden. The mausoleum is square shaped around 30 feet high with a semicircular dome. Like other tombs of its time, the mausoleum is decorated with glazed tiles.
The Nuagaza Tombs (the nine yard graves) and the Mausoleums of Hazrat Hafiz Mohammed Jamal Multani and Musa Pak Shaheed also deserve a special mention.