The association of Hashmis' with Pakistan Television (PTV) goes back to the days when PTV was still in its teething stages. The dedication and devotion of artists, directors and producers has made PTV what it is today.
One greatest Pakistani TV couple which contributed immensely towards PTV's journey in its early days is Shoaib and Salima Hashmi. A highly educated man, Shoaib taught Economics at the famous Government College Lahore.
He along with his wife and actor friends did comedy plays Such Gup, Taal Matol and Akar Bakar. Another play Balila went on air but was banned. Shoaib also translated the famous children's series Sesame Street as Gali Gali Sim Sim. His wife Salima is also a renowned personality of Pakistan.
The daughter of famous Pakistani revolutionary poet Faiz Ahmed Faiz and Alys Faiz, Salima Hashmi is one of the most influential women in Pakistan. She is a teacher, writer, painter, actress and a peace activist. Salima witnessed her father's imprisonment and repression and that's why repression is the main theme of her paintings.
A highly qualified lady with impressive degrees to her credit Salima has traveled all over the world organized exhibitions and lectured on the fine details of arts.
Salima taught at the famous arts college of Pakistan NCA for thirty years and later became its principal; a post she held for four years. At present Salima is serving as the Dean of "School of Visual Arts". Salima's sister Moneeza Hashmi is associated with PTV.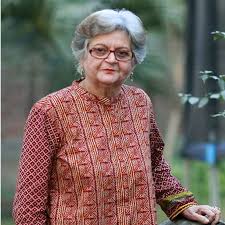 Moneeza Hashmi enjoys the distinction of being the first female general manager of PTV. She has served PTV for forty years under different capacities. During her tenure the quality of plays aired from PTV improved and social issues like education and rights of women and children were raised.
She is the recipient of many awards both local and international for portraying women issues on electronic media. Shoaib, Salima and Moneeza are the recipients of the Pride of Performance Award and are an asset for Pakistan.
Moneeza's son Adeel Hashmi continues the family legacy to bring meaningful entertainment to people. Adeel is an immensely talented director and creative producer but people know him more as an actor. He has acted in sitcoms and produced and directed commercials and documentaries. He is also a playwright who has raised social issues in a funny yet thought provoking style.