The article is based on top five real-life celebrity couples of Pakistan television industry who fell in love during their profession days, got married and continue being with each other. They are the TV actors and actresses; we love to watch plays for. They are famous and successful, and attain a gigantic fan-following.
Let's begin!
Rahat Kazmi and Sahira Kazmi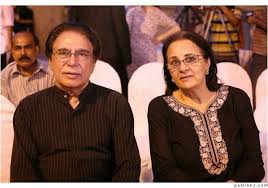 The legendary actor Rahat Kazmi and famous director Sahira Kazmi together make the most successful and most elegant couple of Pakistan television industry. Having a vast experience of film and television industries, the duo actually conquered youngsters' hearts with Dhoop Kinare–a legendary television play.
Their relationship began at some of the television sets and they took a good number of times to know each other. Their shared love and care helped their relationship strengthen and sustain slowly but surely which eventually turned into the strong bond of marriage in 1974. It is their admirable understanding and unconditional love for each other which have kept the couple as one even after more than 39 years of their married life.
Qaisar Nizamani and Fazila Qaisar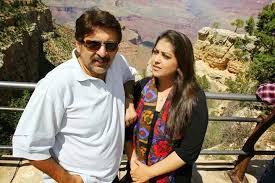 The beautiful couple of Pakistan television industry Qaisar Nizamani and Fazila Qaisar met in an event and fell in love. They discovered a hard to believe chemistry and extraordinary understanding which took them to the peak of a love story i.e. marriage.
Fazila scarified her successful career to marry Qaisar but she was never found regretting her decision, instead they both are very happy with each other hence exemplify an incredible married life for others. The couple is back to their professions and can be seen in many television projects.
Yasir Nawaz and Nida Yasir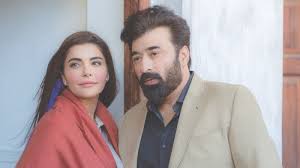 Another lovely couple of the industry, Yasir Nawaz and Nida Yasir is one of those celebrity pairs who tied knot within short time of their relationship. They discovered love for each other on the set of a tele-film and decided to get married. The incredible bond of Nida and Yasir has been getting stronger over the years and despite of different cultural backgrounds they continue to live a remarkable married life.
Nida is back to her profession and is working on different projects. The iconic couple is active in their different and hectic TV projects; but both Nida and Yasir believe in taking out time for the family so they maintain their schedules accordingly.
Mohib Mirza and Amina Sheikh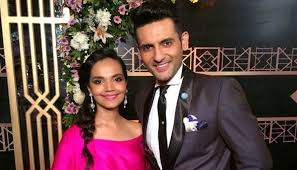 The energetic couple of Mohib Mirza and Amina Sheikh is counted among the ravishing celebrity couples of the industry. They both have very much similar. If we talk about personality quotient, both the celebrities are attractive, lively, enthusiastic and sparkling stars. Their first meeting on the set of a kid's show 'Bachay Man Ke Sachay' led to a love story which turned into a happy wedding in April 2005.
Marrying Amina wasn't a piece of cake for Mohib as he had to meet her father several time to convince him for their marriage. The chemistry and mutual love of Mohib Mirza and Amina Sheikh kept them bumping into each other and they undoubtedly make an amazing pair of the reel and real life.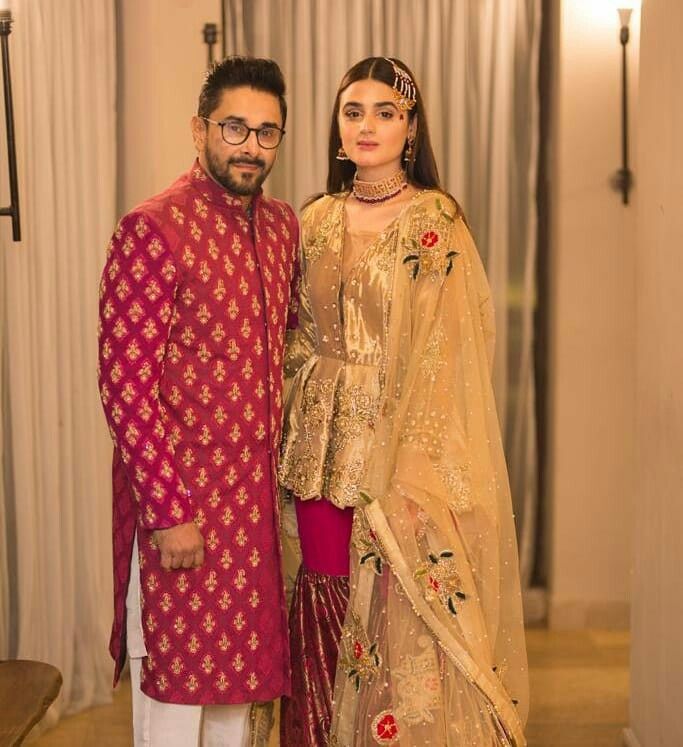 The graceful couple of Mani and Hira gives us a perfect look of made for each other. The duo goes together so well and possesses amazing chemistry. Mani and Hira belong to Pakistan television and film industry and can be seen in a morning show these days.