Rivers and valleys of Muzaffarabad:

Muzaffarabad is the capital of Pakistan Administered Kashmir. It is located on the banks of Jehlum River and Neelam River. It is famous for its scenery and wooden houses. It is also well known for its production of dry fruits.
Muzaffarabad has many beautiful valleys like Pirchinaasi, Neelam Valley, Leepa Valley, Jhelum valley and Chickar valley. These valleys are heavenly beautiful and are very green. Muzaffarabad is surrounded by two rivers, Neelam and Jhelum Rivers.
The Neelam River which is a tributary to river Jhelum is situated in both Kashmir i.e. Pakistan administered Kashmir and India administered Kashmir. This river has sky color water and it named after it.
The river Jhelum passes through India and Pakistan and it is the largest river among the five rivers of Punjab. It passes through the Jehlum valley of Muzaffarabad; it then passes through district Jehlum in Punjab and it is also a tributary to the Chenab River.
Chitral: Polo, Football and Music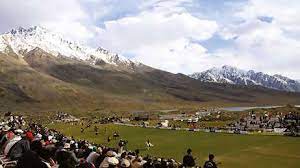 Chitral valley is a beautiful valley which has rich culture of its own and a very charming local music. Polo is the main sport attraction that brings many tourists here.
The hospitable people of Chitral valley gather around Shandur pass in the month of July to play and watch the Polo matches. The Shandur Polo tournament is watched by hundreds of tourists every year.
Football is another game that is in the blood of Chitrali people. Although Polo is what Chitral is famous for, Football is still the most played game in Chitral. There are many famous clubs and the current National Football team has three players that come from these clubs of Chitral.
And to add to the flavor of the festivity that is created by the games, Chitrali Sitar is played to take you on a magical flight. Chitrali Sitar is one of the oldest instruments that are still being played in the modern bazaars of Chitral.
Its magical tone catches many people from all around the world and when they go back, they will talk about it for years. The sound of Tumba makes the Chitrali sitar like no other in the entire world.