The Hunza river-beauty at its best

Hunza River is the main river in the Hunza valley and it is the source of life for the Hunza valley and its surroundings. There are a few hanging bridges over the Hunza river which make it a must to see river. These hanging bridges are very old and they are at a great height hence they present a very eye catching scenery.
The Hunza valley depends upon river Hunza for water. The river finally flows into the Indus River which then discharges itself into the Arabian Sea near the port of Karachi. The Gigot River and Naltar River also fall into the Hunza River and hence join the great Indus River.
This river flows from north to south and cuts the great and mighty Karakoram Range. The Karakorum highway also crosses the river before it enters the valley of Hunza. At the point of crossing a bridge is built which is known as KKH (Karakorum Highway) bridge.
Khunjerab Pass-the highest paved path in the world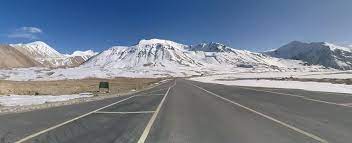 The Khunjerab pass is a mountain pass in the North of Pakistan along with the Pakistan-China border. The Khunjerab pass is famous for its height as it is the highest point on the Karakoram highway and not only that; it is also the highest paved crossing in the entire world.
The Khunjerab pass is 870 km away from Islamabad, the federal capital of Pakistan and it was completed in 1982. If you are planning a tour then make notice of the fact that the pass is closed between November 30 and May 1 due to heavy snow fall. The path is covered with snow during these months.
There is a national park in the vicinity known a Khunjerab National Park. This park has the Snow Leopard which is an endangered species. This climate is ideal for the leopard and the Government is trying to preserve the species by taking care of it.