The gigantic Indus River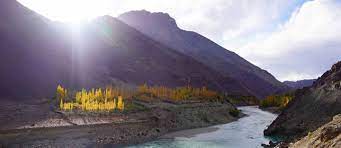 The mighty river of Indus passes through China, India and Pakistan and it discharges at the Arabian Sea. The Indus River has a mighty annual flow and it ranks 21st in the world and 1st in the Pakistan. This river is considered the life line of Pakistan as it waters many fields of Pakistan. Many dams are built on it and Pakistani economy heavily depends on the Indus River.
The river is 3180 km long and it finally discharges into Arabian Sea near Karachi, Pakistan. The Indus River forms a delta in the Pakistani province of Sindh. The glaciers of Himalayas, Karakoram and Hindu-Kush are the main sources of the Indus River.
The river itself originated from Tibet. The flow of the river keeps changing around the year and it flow its banks. In Monsoon, while the flow almost diminishes in the winter. The main tributaries of the Indus River are Astor River, Balram River, Gomel River, Gilgit River, Kabul River, Gar River and Khizar River.
Deosai National Park

Deosai National Park is located in Northern Area of Pakistan. It is in the town of Skardu and the park is situated on the plateaus that are among the highest plateaus in the world. These plateaus are around 4114 meters above the sea level. Deosai is covered with snow for half of the year that is between the month of November and May.
In the spring season, Deosai is covered with a million flowers that are surrounded by beautiful butterflies. This scenery attracts many visitors in the spring. Shausar Lake is another tourists' attraction in the Deosai National Park. This lake is 4142 meters from the sea level and is 2.3 km in length.
Deosai is the natural habitat of the Himalayan brown bear. The Deosai National Park was made to secure this endangered species of bear. This bear is the largest omnivore in Pakistan. When the park was established, there were only 14 brown bears which have grown to around 43 now.