The beautiful Rawal Dam & the Rawal Lake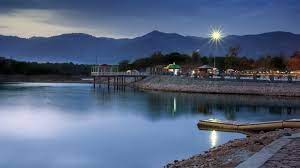 The Rawal Dam is situated near Islamabad, Pakistan. It is a multipurpose dam as it supplies drinking water to Islamabad and Rawalpindi and irrigated the land as well. The reservoir of this dam is called Rawal Lake which is famous for its beauty and greenery.
Many families come to spend time at this lake as it is one of the most beautiful artificial lakes in the area. The lake is situated in the Margalla Hills National Park. The Rawal dam is a partly arched gravity dam which is an excellent example of stone masonry.
The crest level of the dam is 531 m and the maximum height of the crest is around 40 m. two canals are derived from the dam i.e. Left Bank Canal and the Right Bank Canal. These canals run through the Punjab and irrigate a major area.
Many people come here for fishing in the fishing season. The daily fishing fee is only rupees 10 and it is very economical and every one can afford it. For this reason there are many families that plan their picnics at the Rawal Dam Lake.
Khanpur Dam – utility and the festivity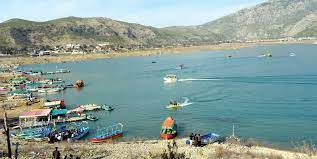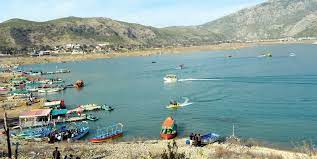 Khanpur dam one of the most beautiful dams is constructed over River Haro which originates from Abottabad. It is situated near Khanpur town KPK around 40 km from the federal capital Islamabad The construction of this multipurpose mega project began in 1968 and was completed in 1983 with an estimated cost of rupees 1,352 million.
Khanpur dam has a storage capacity of 106,000acre of water and is 67 feet high. Khanpur dam is of utmost importance as it is the primary source of water supply (both domestic and industrial) to Islamabad and Rawalpindi the twin city. It also irrigates the surrounding agricultural areas.
Known for its picturesque beauty, Khanpur Lake (the reservoir of the dam) has become a popular tourist destination and a picnic spot. The beautiful and serene environment is also a sanctuary for migratory birds during winter.
The beautiful lush green gardens carved in the slopes of the mountains surrounding the lake attract a large number of visitors and various activities like boating, angling rock climbing and bird watching have made it all the more alluring.
The Khanpur dam took 15 years before it became functional in 1983. The estimated cost on the dam is around rupees 1352 billion. The dam stores 110,000 acre feet of water and the height of the dam is 167 feet or 51 meter.
Every year a spring carnival is arranged at the Khanpur dam. This carnival attracts many tourists from Pakistan and from around the world and it has many colorful and attractive events to show off.